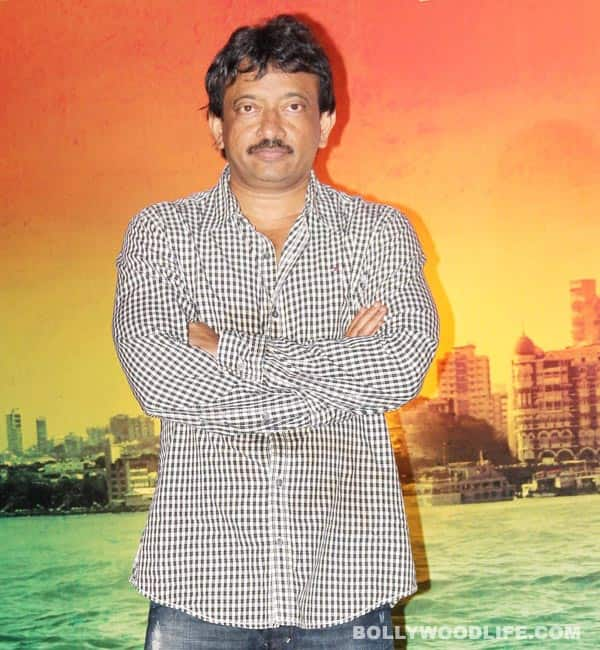 Though his latest release, The Attacks of 26/11 failed to generate the kind of response the filmmaker was anticipating, Ram Gopal Varma hasn't lost faith in his meticulously researched film. Next, he's all excited to showcase two of his most anticipated sequels releasing this year – Satya 2 and Ab Tak Chhappan 2!
Ram Gopal Varma's self-admittedly most challenging film of his career, The Attacks of 26/11 failed to set cash registers ringing at the box office. Though Ramu is vaguely hurt, he isn't complaining! (Does he ever?) The filmmaker who's quite popular in the Twitter world for his opinions (read: 'potshots') tweeted about critics' response to his latest release. "Its amazing to see what joy people get in running down a film, from critics relishing to rip it to columnists hurrying 2 bury it. Love you all anyways." No failure, criticism or backlash can break the maverick RGV spirit; the filmmaker is all geared up to present Satya 2, followed by Ab Tak Chhappan 2, and to finish scripting Sarkar 3 soon. He discusses all that, his 'new' friend Karan Johar and much more exclusively with BollywoodLife….
Unlike Bhoot Returns and Department, you were hoping to receive only accolades for The Attacks of 26/11. But that doesn't seem to be happening…
Those who have seen the film have got different reasons for liking and not liking it. Considering the movie is based on a true life incident that was widely publicised, people know details and facts through discussions, debates, newspapers, etc. No filmmaker can expect only accolades for his films. My job is to make a film and then see how people react to it.
Do you have a sense of pride on having made a film on a national issue?
Of course, yes! I spoke to a lot of people including eyewitnesses and families of the victims. So it was very difficult to take a call on whose story I should incorporate, thinking whose story was more legitimate, because I was measuring all these in the context of the screenplay and the point I was trying to make. There were numerous such stories that were incredible to hear, but unfortunately I couldn't incorporate all that in the narrative of the film.
So the Karan Johar-Ram Gopal Varma war is over?
I've always said that Karan and I are not enemies. Yes, I do make fun of him as much as I crack jokes about myself. I have never ever made a nasty or indecent comment on Karan Johar. I must have made some funny comments on him, but definitely not with the intention to hurt him. I am very fond of Karan and there is no bad blood between us. It's the media that instigates us to react to each other's comments.
Regardless of the number of films you make every year and their box office fates, how does it feel when media reports say 'Ram Gopal Varma is back'?
I really don't think much about what people or the media say simply because I'm very busy thinking and saying things about myself and other people (smiles).
South remakes are the order of the day. Any plans of attempting a South remake?
No, I'm incapable of South remakes.
You're working on Satya 2 – the first part is a cult film in its genre. Who's playing Satya and Bhiku Mhatre and how do you plan to take the story forward, considering the first part released almost 15 years ago?
Satya 2 is not a sequel. Satya was about a guy who came in 1997 to Mumbai and got shaped by the then-existing conditions in the underworld, whereas Satya 2 is about a guy who comes to Mumbai in 2013 to reinvent and reestablish a non-existent underworld. The names of the actors will be out soon.
John Abraham was supposed to co-produce Satya 2. What went wrong?
In the very initial stages, John and I decided to produce it together, but later the deal didn't work out. There's nothing wrong with that.
What's happening with Sarkar 3?
It's still at the scripting stage, but it will happen for sure. I am not planning to bring in a drastic change in the cast. Both Amitabh Bachchan and Abhishek Bachchan will feature in Sarkar 3. Vishnu's (played by Kay Kay Menon) son's character will have a major role to play. It's too early to disclose anything more about the film.
You're planning to release Ab Tak Chhappan 2 in May. How have you taken the script and Nana's role forward?
It has been directed by a new filmmaker called Ejaz and he's done a very good job. Ab Tak Chappan had an intriguing end where Nana goes to Dubai to kill the Don who had killed his wife. Now the situations in Mumbai have changed. The new minister of Mumbai wants to bring Nana back to tackle the crime situation in the city. This is how the sequel begins. I cannot tell you anything more than this.
What does Ram Gopal Varma do in his free time besides tweeting and thinking about films?
I prefer to watch Chinese and Korean movies.