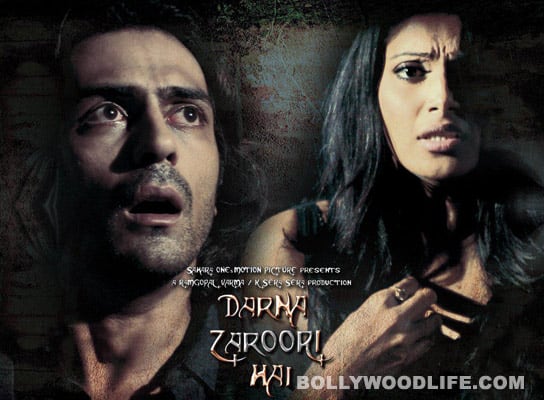 Shut Door. Old Temple. Do these titles interest you enough to watch a scary movie?
Bollywood horror films are usually more comic than scary. Very few films are able to send shivers down your spine. Even fewer horror movie titles are deliciously scary enough to make you want to watch the movie. And when you translate those movie titles into English for the Hollywood-types, you just end up laughing out loud and rolling on the floor. Take a look at a few gems we found:
Darna Mana Hai
Being Scared is Prohibited
(Then why are you making a horror movie?)
Darna Zaroori Hai
It is Necessary to be Scared
(Oh, so it's a horror movie! Now we got it!)
Phir Wohi Raat
The Same Night Again
(It's only the same night, not the same story)
Hawa
Air
(We leave it to your imagination)
Purana Mandir
Old Temple
(Err… so?)
Band Darwaza
Shut Door
(Never mind)
Kaal
Time
(Right, as if that's scary)
ALSO READ: Salman Khan in Dabangg: I will make many holes in your body
Rajinikanth said: The time for me to come has come, the time for you to go has come
Govinda: You felt chilli when I twirled the girl, what can I do?
Vidya Balan says: Once seen Kolkata then other world is useless
What would 'Mission Impossible' be in Bhojpuri?
Mithun Chakraborty's 'calculation of blood'!
Shahrukh Khan said: One day she will say… leave the world!
Nana Patekar said: If in life you have not taken a bribe, then only touch me!