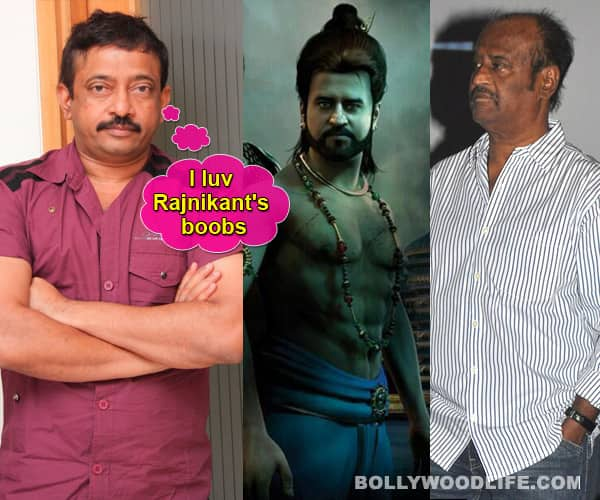 RGV sets a new Aag by commenting on superstar's looks in Kochadaiiyaan.
The controversial Ram Gopal Varma, who lost his Midas touch, seems to be losing his sanity as well as sense of humour. But RGV still retains his ability to create sensational news with his foot in the mouth comments. Recently the director tweeted a nasty remark on Rajinikanth's…err…chest in Kochadaiiyaan.
The filmmaker, infamous for producing biggest box office debacles from time to time, tweeted "My prob with Kochhediyan is I luv Rajnikant's boobs how they r n I really don't undrstand why he wants to enhance thm through 3 D animation". RGV seems to be on the road to spark a new controversy as his comment on masses favourite superstar will not go down well with his fans.
Ramu is also taking on Twitter to share his great thoughts on politics. The director was seen  trolling Congress, Rahul and his own master piece Ram Gopal Varma Ki Aag together in a single tweet. "I think Rahul Gandhi is Congress ki Aag….and i also think Congress can never make a Sholay again if the Gandhis remain its Leaders " tweeted the famous Ramu.
This isn't the first time the Satya director has insulted a superstar. In 2011, RGV had written on his micro-blogging page "Just watched Bbhuddah and I am. angry with Bachchan that he is such a ch**iya not to do films like this and am such a l**** not to realize this. Just saw some scenes of Bbhuddah and I am fu***g super angry with the f****g angry man for not doing more films like this all these f****g years." Of course, the filmmaker had to apologies to Big B's fans later, he said, "For the people who took offence to my language I am rephrasing my compliment…Bbhuddah is a very nice film and Amitji has acted very well."
Ram Gopal Varma is going through a drought of ideas as his films and tweets are turning out to be cheap and inedible. With Kochadaiiyaan star Rajinikanth on Twitter, we wonder if Rajini would respond to Ramu's scathing tweet. Well that should be fun! What say Bollywoodlifers? Until then may be the director can continue battling some mean remarks from the Thalaivaa's fans.