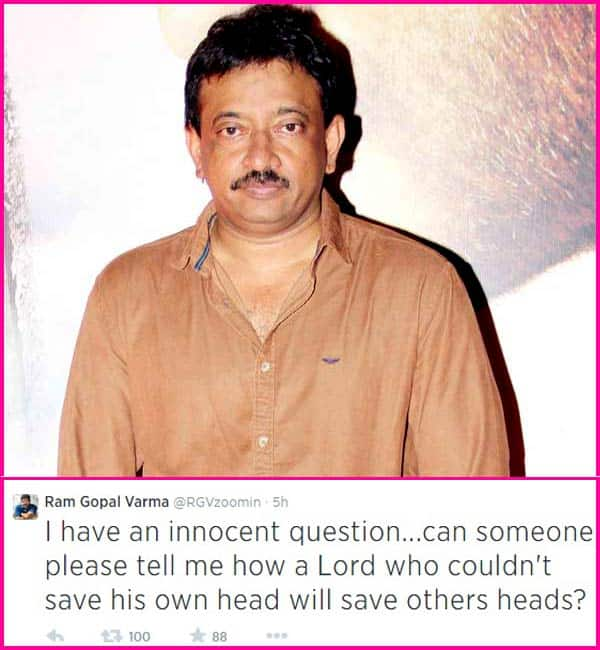 The ace filmmaker went bonkers on Twitter, constantly putting up blasphemous tweets on Lord Ganesha and Ganesh Chaturthi festival
Ram Gopal Varma has always been in the eye of the storm thanks to his bindaas attitude and his extemely blunt and offensive tweets in the past. If you jog your memory a little, the director took a nasty dig on Rajinikanth's looks in Kochadaiiyaan few months back. Now the Satya filmmaker is back in the centre of a controversy with his tweets on Ganpati and the Ganesh festival, which many consider to be extremely offensive and even blasphemous.
The following are the tweets of Ram Gopal Varma and here is what the Ramu had to say about  Ganesh Chaturthi :
The guy who couldn't save his own head from being cut , how he will save others heads is my question? But Happy Ganpathi day to morons!"  Can someone tell me if today is the day Ganesha was originally born or is it the day his dad cut his head off? I would really love to know from Lord Ganesha's devotees a list of what obstacles he removed in all the years they prayed to him. Does Lord Ganesha eat much more than other Gods? My doubt is becos all the other Gods are either trim or muscular. Did Lord Ganesha have a paunch in his childhood too or did it develop in the recovery time of the elephant head operation? Can someone explain how someone can cut off a child's head who was just trying to protect his mother's modesty? Am sure devotees know better. All concerned pls undrstand tht my questions nd observations on Ganesha are coming from both my innocence nd ignorance on the subject matter.I think my films are flopping only becos of my attitude towards Gods. ..I wish I can become a devotee
Ramu's tweets have left many fans fuming and an enraged Kunal Kohli tweeted," Greatest thing about being Indian is we partake in each others festivals not ridicule them like you.Shame on you #RamGopalVerma". Wethinks that it is just an attention seeking exercise from RGV, who is desperately trying to be in the limelight by making offensive remarks. Perhaps, the director is not in his right frame of mind as both his films and tweets are turning torturous with every passing day!