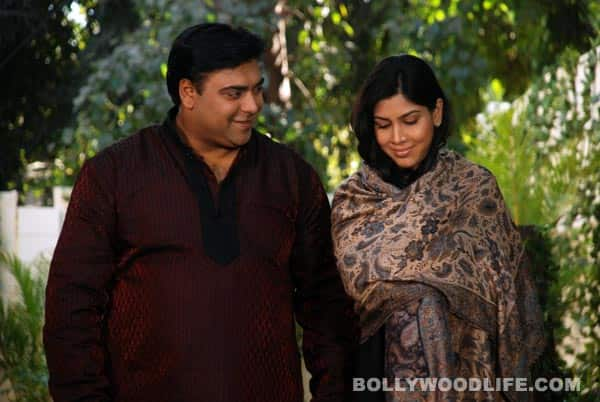 But daal mein kuch kaala hai. Ram's new wife Ayesha – with the new face of Akanksha Juneja who replaces Chahat Khanna – is recovering from her accident and needs his help to recover…or so she says
It all seems to be going so well for Ram Kapoor and his on-off biwi Priya Sharma aka Sakshi Tanwar. But only now and then. Every time they come closer together after the five-year distance, something goes wrong. And now, since they have decided that they will be a awesome twosome, life has spun off the expected track again. Just as Ram and Priya start to be openly and positively affectionate after some heated words and passionate argument, disaster strikes. Ram's current wife Ayesha sees them together and runs out in anger, amazement, peeve…you take your pick. And she is hit by a car, tossed dramatically – and hilariously, we must say – into the air, injuring her face nastily, even as her pretty yellow saree stays rather more pristine than you would expect with an accident of this sort. We could see what was coming next; Ayesha was in hospital, recovering from the trauma, but needing plastic surgery to fix her face. But honestly, the degree of hurt on her face does not justify anything drastic, we thought, even as we knew that surgery was the story, since the actor was going to be changed. Chahat Khanna had a wedding to be at – her own – and wanted out of the show, so Akanksha Juneja was stepping in.
So there we have it. As per what our buddy the birdie with a TV soap opera habit told us, just as Ram and Priya are announcing to their families that they would be together again as a couple, a nurse bursts in with the news that Ayesha wanted to speak to her husband. Tadah! Of course it was rather inappropriate timing to make that kind of announcement in a hospital, but Ekta Kapoor never lets up on the TRP hunt. The promos that the birdie gave us showed the new Ayesha with a distinctly prettier face, a more radiant smile and a more appealing look. And she is so obviously shorter! (Shades of the change of actor in Kyunki Saas Bhi Kabhi Bahu Thi, perhaps?) Will she be convincing as an evil woman having an affair with her husband's stepbrother Siddhanth, who has already been seen at her bedside swearing revenge against Ram?
Confused? So are we. But we can't wait to see what madness the writers come up with next!