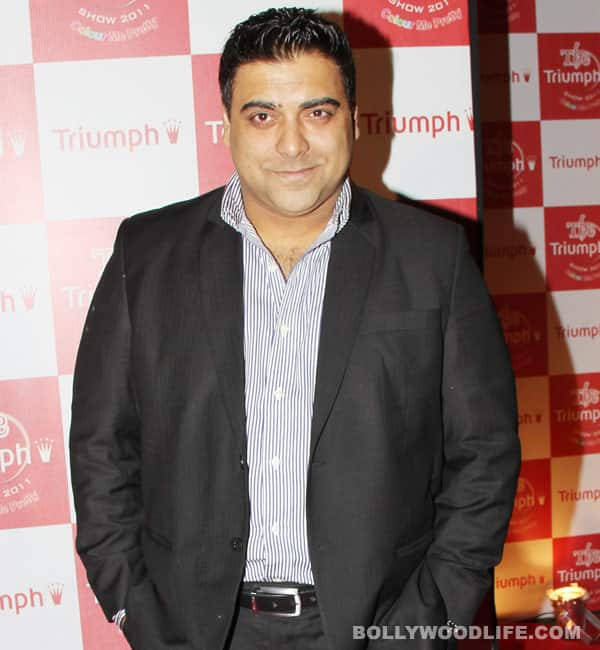 We sat down with the lead actors of Yash Raj Film's forthcoming release Mere Dad Ki Maruti – Ram Kapoor, Saqib Saleem and Rhea Chakraborty – at the sprawling Yash Raj Studios on a rather hot Sunday afternoon. The trio told BollywoodLife exclusively why their new film is a promisingly hilarious venture…
When Ram Kapoor decides to talk – and that does happen quite frequently – the massive star of Bade Achche Lagte Hain turns into a chatterbox. Hardly allowing the young lead stars of his forthcoming venture Mere Dad Ki Maruti – Saqib Saleem and Rhea Chakroborty – to say a word, Ram takes centrestage….
BollywoodLife: Hot, sexy and irresistibly attractive – these are the adjectives women use to describe Ram. But he's been constantly denying that, saying 'Hot, sexy – lekin kaunse angle se?' Saqib and Rhea, you tell us what in your opinion is that X-factor in Ram that pulls ladies towards him?
Saqib: My mother is a big fan, my sister watches his show (Bade Acche Lagte Hain). I think it's his charm.
Rhea: With a face like that, with a voice like that and a smile like that, what else do you expect?
BollywoodLife: C'mon Ram, you have to share the secret with us. Tell us, what makes you so charming?
Ram: You expect me to know these things? Nobody knows, man! Look at Rhea, for example. Does she know that she is so sexy? She doesn't!
BL: But you know what? Rhea actually called you the 'Salman Khan of Indian television'!
Ram: Don't you know that she is deranged?
BL: That's not fair! You just called the leading lady of your new film 'deranged'?
Ram: She's a whacko!
Rhea: How do you think I bagged the part?
BL: OK, now we know! Now tell us about Saqib Saleem, a cricketer-turned-model-turned actor. Did he teach you a cricketing skill or two on the sets of the film?
Ram: He taught me everything I know. I am nothing without Saqib Saleem. He's taught me how to act, how to remember my dialogues….(laughs)
Rhea: Ram practically owes his entire career to Saqib (giggles)!
BL: Then what about VJying (Rhea was an MTV VJ)?
Ram: She still has to teach me that!
Rhea: It's a natural talent. It can't be taught. It has to come from within you. I am sure you know….
BL: Ram, you are playing a khadoos father in your film. Tell us what Ram Kapoor – the father – is like in real life?
Ram: I am still learning to be a good father. My kids are very young. So I try to get to their level. When I am with them I am a very different Ram Kapoor. I get into all the madness with them. There's no khadoos-ness yet. That time will come eventually when I will have to be strict and disciplinarian, but right now they are very young and I am having as much fun with them as possible.
BL: These two kids (Rhea and Saqib) had fun with you while shooting for the film, but you know what Saqib told me about you?
Ram : What ?
BL: That he was so scared of you on the first day of the shoot that he sat with his knees closed and his hands folded over his chest…
Saqib: Yeh sab bola tha maine?
BL: Haan, do din pehle, jab hum mile toh yahi bola tha!
Saqib: Sir, yeh journalists bhi na, kya kya bulwatein hain!
Saqib: I was a little nervous on day one, lekin baad mein sir ne jo pyar se wecolme shelcome karvaya aur coffee pilvayi! Baad mein sir ne comfortable kiya. Khana khilaya. Bhaut pyar kiya. Sir bahut pyare hain. Sir best hain. Yeh sab maine bol diya, sir!
BL: What is the tadka of the film, the USP?
Ram: I think it's the script. There are times when you have to work on the script. But for this film I just had to blindly follow the script. The second USP is that the entire team of the film gelled at a very deep level, right from the beginning. At times people take time to open up to one another, but in this film, from the first day itself we all have been shooting as if we have been shooting together for months on end. These two (Saquib and Rhea) will give me credit that I made them feel relaxed, but the fact is that they made me feel relaxed, as much. We would crack jokes on the sets….
BL: What kinds of jokes were these?
Ram: Absolutely non-veg! I am a Punjabi and I like it only non vegetarian.
BL: Can you crack one for us?
Ram: You will have to bleep out everything! (giggles) The point is that we had so much fun together that I am sure it will get translated on the screen.
BL: You three have worked in both films and television. Saqib was modelling and has done commercials, Rhea has been a VJ; Ram, you are a big television star and you do movies too. Tell us, which medium is more challenging to work in and why?
Rhea: I don't think you can compare the two. Acting on TV or say VJying could be harder, because you have to do it every day. But in ad films you have to act, you have to be a character there, so I guess both Ram and Saqib sailed in the same boat…. but I am a bit different.
Ram: TV and films are two different mediums, each with its own set of challenges. In television there is no time to deliberate, no time to work on your characters. There's no time to have a discussion. You need to be really fast. We shoot three or four scenes in a film in a day and then we do 12-15 scenes a day for TV. I don't think one is easier and the other is more difficult. They are just different. But if you love your work, you will love both mediums in different ways.
BL: Saqib, this your second film after Mujhse Fraandship Karoge, which was a surprise success. Do you feel that the pressure will be more now because you have to raise the bar with your second film?
Saqib: There is pressure, but at the same time I am more excited about it.
Ram: In fact, he (Saqib) is so good in the film that we have to raise the bar for him. Everybody in my family and friends circle who have seen the promos and the songs of the film ask me who that chick is. She is so hot! (Referring to Rhea) And everybody says that Saqib is a different actor from his previous movie. I think his level of confidence while working in this film was more than when he was working in his debut movie.
BL: And what about Rhea?
Ram: She is a hottie, man! When you look as good as her, you don't have to do much, yaar. You just have to stand there and everybody else will do things around you.
BL: Tell our audience why they should watch Mere Dad Ki Maruti releasing on March 15…
Ram Kapoor: Go and watch this film with your entire family. It is a full family entertainer!
WATCH VIDEO INTERVIEW