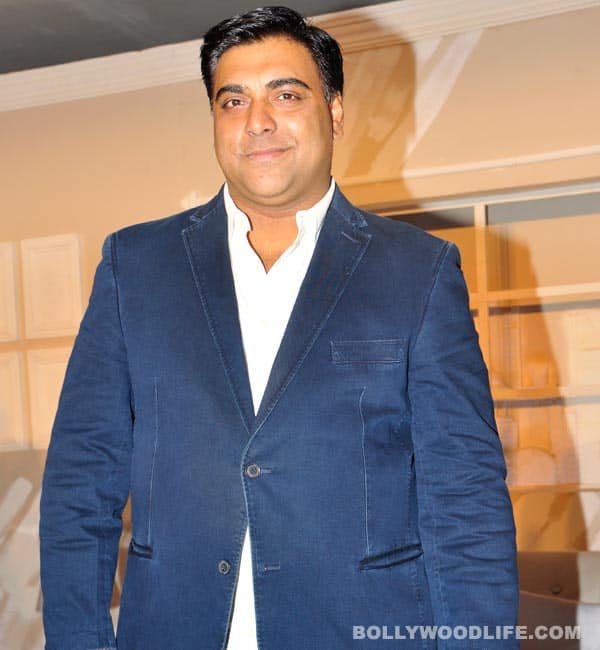 He is the king of television but when it comes to films Ram Kapoor thinks his journey in Bollywood has just started and there is a long way to go
He is famous; he is hot and of course a fabulous actor – that's Ram Kapoor in a nutshell. BollywoodLife recently caught up with the talented actor to chat about his upcoming comic caper Humshakals which stars Saif Ali Khan, Riteish Deshmukh, Tamannaah Bhatia, Esha Gupta and Bipasha Basu in the lead roles. Yes, we had to wait a bit before starting our conversation courtesy Ram's love for food. However, once we got talking then there was no stopping the Bade Achhe Lagte Hain star. He was more than willing to answer each and every question of ours which wasn't surprising considering he is a total chatterbox. So is Ram Kapoor really leaving television? Is Bollywood on Ram Kapoor's priority list? Read on to know….
How hard was it for Sajid Khan to convince you for the bikini scene?
For some reason when I am saying this it's shocking everybody. But I need to say it to all of you so please understand what I am about to tell you is true. I am dying to do stuff like this. The minute he said this, I said 'done'. The reason for that is I have been very lucky in television and I have tasted a lot of success. But the drawback of television is that while it makes you a household name, gives you respect, fame and money, you get stuck in the same role for years. As an artist your growth stops. The reason I am dying to do character work in films is coz there is so much variety. At the moment, I am dying to do as different and outrageous things as possible. If you see my recent films or what you are about to see – you'll realise they all are very different roles. I consider it lucky that I am getting variety of roles to do. So when Saj approached me, I was like 'chal lets do it.' And I know Sajid for 20 years. We have grown up together. I know Sajid, Farah and the whole gang since college days. When I was in Los Angeles, Sajid stayed with me for two weeks. We went to Vegas together, gambled and what not. So I knew I was putting myself in a friend's hand. If somebody new had come, I might have thought about it. But since it was Saj, I said yes within a second.
But were you embarrassed at some point doing this role?
I am not embarrassed to do anything. If I were a person who would get embarrassed easily, do you think I would still be this fat and done roles that I have done so far? A lot of jokes are pulled on me, on my weight but that is something I love the most and that it what even people love. All our lives we get to see actors who are trying to look their best and are always conscious of presenting themselves in the best way. That's fine. It's important but for the first time I got to show the real person – who is fat, has problems and insecurities. And I think one of the reasons for my show's success was that people could relate to me. So I am not the kind of person who gets embarrassed or conscious. I am very much in love with myself. And I am okay with my faults and assets. So there is no roam for embarrassment.
You just said that you're very much in love with yourself. Is that the reason you're romancing yourself in the film?
(Laughs out loud) No, the reason I am romancing myself in Humshakals is coz of Sajid Khan. Only he could come up with something like this. He thought it would be very funny. I had nothing to do with it. In fact, I was in Macau, when Sajid called me and he told me to meet him the moment I get back. He said I got something for you. I was like 'Okay, I'll do it.' So in my mind I had already said yes coz it was Saj and I trust him blindly. It was when I came back that I realised what all I had to do. Maine already haan bol diya tha and it was icing on the cake that I got to do so much variety.
What was the reaction when everybody saw you in the bikini on the sets?
When we were shooting, Genelia and Bebo were there along with the rest of the cast and they all said that they were only looking at me. It's coz of the shock value. When you see Saif Ali Khan, Riteish Deshmukh and me in one frame, toh shock value sabse jyada mere pe jata hai.
What about your wife and kids….
My wife is super thrilled and my children are dying to watch the film
Considering the success of your show and your popularity, why did you choose to be a part of an ensemble movie? You must have got offers to play the lead…
I am very realistic kind of a person. I have become very big in television and I am aware of that. But that doesn't mean I can dictate my terms in films. I am aware of my journey in television. It took me 10 years to reach where I am. My journey has led to bigger and bigger things. When I got my manager onboard, we decided that I have to make a mark in cinema now and I was fully prepared to start from the bottom. I gave 10 years to TV and I am ready to give the same amount of time to films. I maybe the biggest name in television but that means nothing in cinema. So guys might see me as an supporting actor but I think I am lucky that I am getting such offers coz I know television very closely and I can tell you honestly that very single actor/actress is dying to make it in Bollywood. And very few of us are getting opportunities. How lucky is that? I can tell hundred names who are super successful in television and trying to enter films but with no success. So I see this as a blessing in disguise. I did two scenes in Ekk Main Aur Ekk Tu and people from television were like 'Yeh kya kar raha hai.' But I and my manager were very clear that we wanted to get in Dharma and from there to Yash Raj and it happened. I am ready to go step by step coz people have labeled me Salman Khan of television and that maybe true but I am nobody in films. So I am willing to do things from scratch.
You said you want to give 10 years to films to reach where you want. But isn't that a long time coz by then you'll turn 50?
See, I want a career in films my entire life. As a character actor I have that luxury. But lead actors have a shorter life span. If you look at any of the star characters – Anupam Kher, Paresh Rawal, Amrish Puri they all hit the big time in their 40's and 60's. Boman Irani started well in his 40s by the time he became name. I am still young in that respect. I am very happy being a character actor in Bollywood. If I get a lead part I won't say no but I have no such ambitions. I know assets and weaknesses very well. Am I suitable for lead? Hell no! Except if it's a hatke film. I am not a hero material but as a character actor I do fit a space.
You have a hero image in television then why you think the masses won't accept you as a hero in Bollywood?
People want to put on the TV to see stuff they can relate to. As for films, you go to cinema halls and pay ticket to enter the dream world which why the requirement for television lead and a hero in Bollywood is different. But let me tell you that our progression is happening at a faster pace than we thought. After Humshakals, I am doing lead work in films. I have signed three projects but I can't talk about all of them. I did not expect to but I am doing lead work. However, I don't how successful it will be.
Sajid Khan has been your friend since years then why didn't you collaborate with him earlier?
I have lot of friends in Bollywood. Sajid Nadiadwala is my good friend, I know Arbaaz Khan very well and also Farah. But I have never asked for work coz that's not my style.