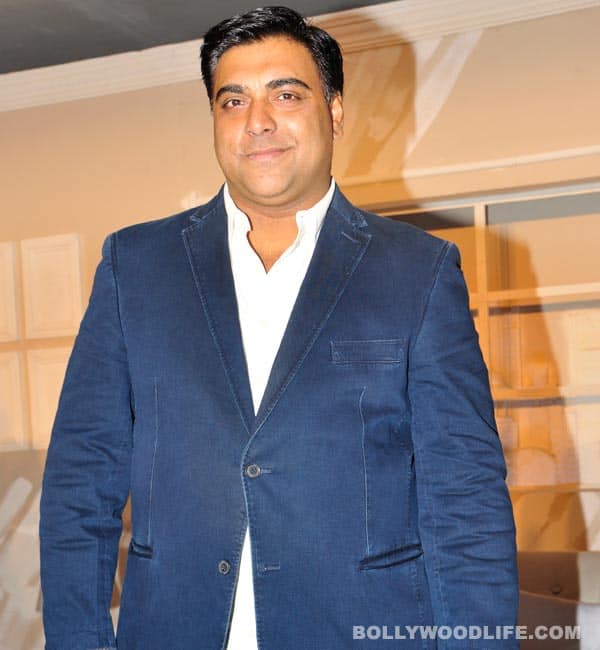 We caught up with the stout Bade Acche Lagte Hain actor at Mumbai's Yash Raj Studios on a warm February evening. In a freewheeling chat the imposing Ram Kapoor talked about his new film Mere Dad Ki Maruti, his flourishing career and what makes him the kissie-boy of the small screen…
The first thing you notice about Ram Kapoor when he walks into a room is his size. The 'massive' star of the popular television saga Bade Acche Lagte Hain can't be captured in one gaze. But contrary to his man-mountain appearance, Ram is a sweetheart who eases you into a friendly chat with his unassuming attitude and undeniable charm.
Excited about his new film Mere Dad Ki Maruti, the 39-year-old actor is happy about where he is today as far as his career is concerned, but he's certainly not satisfied. "An actor, a performer can never be satisfied," he stresses. Even as he enjoys the incredible popularity and the kind of roles he's getting to play both on the small and the big screen, Ram is confused about why he is called the 'sex symbol' of television. "Yaar meri size dekho. Kaunse se angle se sexy dikhta hoon? (Just look at my size. From which angle do I look sexy?) It's good to be fat though!" he says with a giggle and fields the googlies we throw at him about his steamy scenes with Sakshi Tanwar, with childlike ease and naked honesty….
You suggested the title of your forthcoming release Mere Dad Ki Maruti. Are you endorsing the brand here?
Yeah, that's right. I suggested this title because the brand Maruti, to me, is synonymous with cars in India. My dad drove a Maruti 800. Main wohi car chupke se, chori karke long drives pe jaata tha (I used to sneak out and take the same car on long drives). Even my first car was a Maruti. Ek baar toh accidentally maine woh car thok di kisi pole pe, aur maafi mangta hua ghar chala aaya. (I banged that car into a pole accidentally and then came back home to apologising to my father) And later I was pulled up by my father. So the film draws upon life experiences from real incidents, you see. But even today, when I think of cars, the first thing that pops into my mind is a Maruti!
What is the film about?
The story is about a young guy who sneaks his father's new car out for a fun drive to impress a college hottie and then the car gets stolen. The film then becomes a constant endeavour to get the car back. I play the father and newbie Saqib Saleem plays my son in the film. Mere Dad Ki Maruti is a crazy,over-the-top comedy and a total family entertainer.
You are one of those rare actors who has moved over from movies to the small screen and became incredibly popular. While most actors see television as a stepping stone to Bollywood, you tasted success with a reverse track. Amitabh Bachchan made us realise the magic of TV with his show Kaun Banega Crorepati and now you have reaffirmed the fact that one doesn't need to always be present on the silver screen to be popular….
That's true! Television has become an independent industry in itself. Now people aspire to be TV stars like Ronit Roy or Ram Kapoor. Gone are the days when television was used as a medium to be recognisable first in order to get that rare chance to work in the movies. But TV has its own hazards too. If you want to get into movies, then TV can act as a hurdle, since you are likely to get stereotyped and over-exposed. But it all depends on what you want from life eventually. If you are good with your craft, you will be noticed and will get opportunities to work in both media.
Which medium are you most comfortable with?
I am an actor who is comfortable doing both TV and films. I am as excited about Bade Acche Lagte Hain as I am working in films like Udaan, Monsoon Wedding, Hazaaron Khwaishein Aisi and Student Of The Year. But one thing I must tell you and mark my words – television in India is going to become much bigger and more popular. It will also create more stars with its incredible reach and popularity, just like American television or sitcoms.
In your career graph, which film or television soap would your consider as the turning point?
I would say Ekta Kapoor's Kasamh Se (2006) on Zee TV changed it all. I became a known face after that serial.
And Bade Acche Lagte Hain made you not just a big star, but a sex symbol of the small screen. Don't you agree?
How can a fat guy like me have sex appeal? Yaar, meri size dekho! Kaunse angle se sexy dikhta hoon? When people ask me about my sex appeal, I get confused. Hot…sexy…from where? It is good to be fat though. I think I am lucky enough to have been accepted for my work. I am really comfortable in the happy space I am in today, but am not satisfied. I think I can do much more, but if women think I am sexy I take that as a compliment. Honestly speaking, I don't take it seriously.
Your steamy scenes and that famous kiss with Sakshi Tanwar in Bade Acche Lagte Hain generated a lot of buzz. Were you prepared for that?
Yeah, we got bad press for that. But tell me, what is so strange about the character kissing his wife?
Perhaps the strange thing about it was to see such intimate scenes for the first time ever on the small screen, that too on prime time TV. What was going on in your mind before doing those steamy sequences? Were you ready to do what the script demanded at that point in time?
First of all, it wasn't my idea, but it made me the first kissie-boy of Indian television! I am willing to do whatever the script demands only when I am fully convinced in my head that I can do it, or the character can do it. Tomorrow if I'm asked to do a striptease, I would say eff-O!