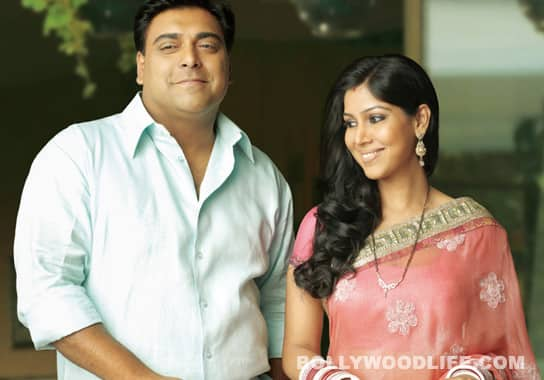 It was hardly a happy experience for viewers, but it did make the TRPs shoot upwards. And now Ram Kapoor and Sakshi Tanwar will get sexy again soon on Bade Acche Lagte Hain, we hear!
A few months ago Ram Kapoor (played by, yes, Ram Kapoor) and his wife Priya Kapoor (Sakshi Tanwar) consummated their marriage of convenience and announced to the world ki pyaar ho gaya. There was a passionate kiss or four, some closed eyes, heavy breathing, nuzzling…well, you get the point. We did have our eyes closed through a lot of it, since a majorly overweight Ram and a patently uncomfortable Sakshi making out hot and steamy on the small screen was hardly an aesthetic experience, to put it mildly. And we hoped it would never happen again.
No one was listening, least of all Ekta Kapoor. Now that scene is gonna be replayed, presumably in an updated and remade format. Ram Kapoor has confirmed that there will be a love scene and we are trying to figure out when and how it will happen and what will lead up to it. After all, the stout businessman has just been shot and needs to recover before he indulges in any strenuous…err…activity, no? But there have been enough meaningful glances, emotions seething just under the surface and much more, showing off the chemistry and lingering feelings between the estranged duo, wethinks.
We also hear that Priya will get custody of their daughter Pihu Kapoor for now, but a couple of years down the line Ram will get charge of the child. So does this mean that the two on-off-who knows twosome will hook up again, or not? Your guess is as good as ours!