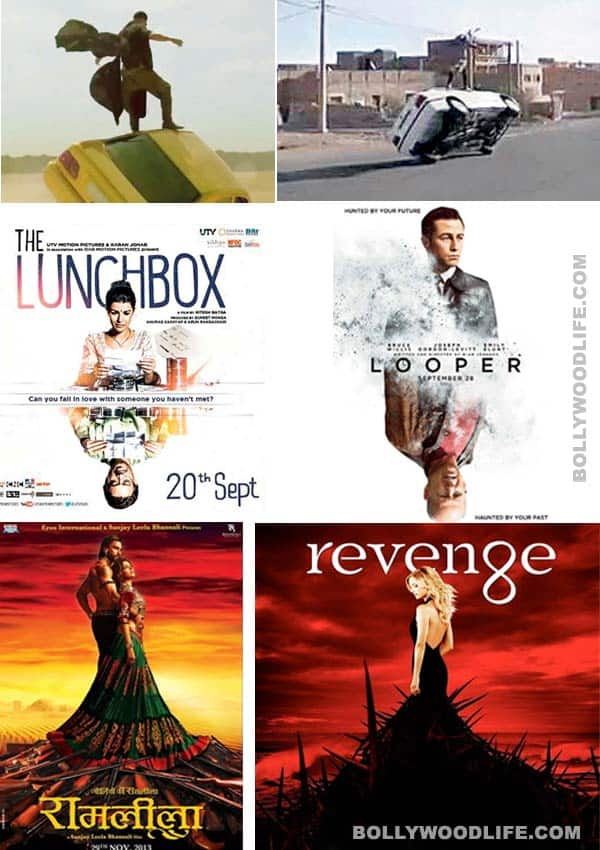 Looks like Bollywood has not stopped 'lifting' ideas from the west
Bollywood has always been in the news for 'stealing' or 'lifting' ideas from their Hollywood counterparts. However this blatant copying is euphemised as "inspired by" these days.
The recent Bollywood movie which seems " to be inspired" from the west is Akshay Kumar starrer Boss. Yes, you read it right. In the title track of the movie, Khiladi Kumar is shown standing atop a car, tilted at an odd angle with the huge expanse of a desert in the background. It looks like the scene has been lifted from a song by MIA Bad Girls.
Not only this, but the poster of Irrfan Khan-Nimrit Kaur starrer The Lunchbox which won millions of hearts is also "inspired" from the poster of a Hollywood movie named Looper. However one of the producers of the film, Guneet Monga says she has no clue about the 'coincidence'. "It's an original piece of work by our designers and I have no idea about the similarity between the two." Yes, we believe you Guneet!
Wait, that's not all. The poster of Sanjay Leela Bhansali's upcoming movie Ram Leela starring Deepika Padukone and Ranveer Singh seems "inspired" from the poster of an American TV soap opera named Revenge. Well we think rather than yelling at Deepika, SLB should have yelled at the designers who "lifted" errr…got "inspired" by Revenge's poster.
In the past too, Bollywood has shamelessly copied posters from the west. These include films like John Day, Murder 3, Zindagi Na Milegi Dobaara, Ra.One, Heroine amongst many more.
All we can say is that in Bollywood, inspiration is a good way to mask allegations of blatantly lifting someone else's art work and passing it off as an original creation.