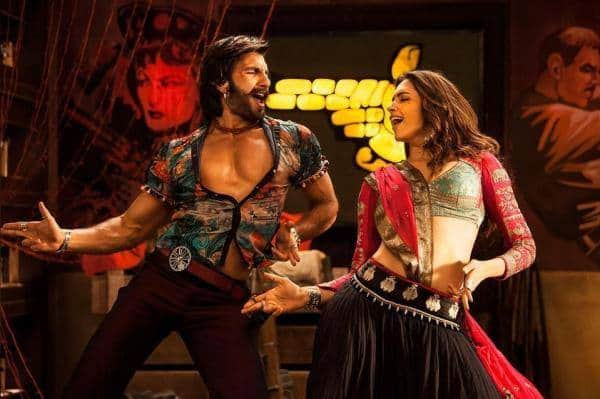 Music: Sanjay Leela Bhansali
Lyrics: Siddharth Garima
Singers: Arijit Singh, Aditya Narayan, Osman Mir, Aditi Paul, Shreya Ghoshal, Bhoomi Trivedi, Shail Hada, Osman Mir
Sanjay Leela Bhansali has been known for his natural flair for music ever since his debut film Khamoshi – The Musical (1996) and demonstrated that very well in his last release Guzaarish (2010). Bhansali has ensured that the music of every film he makes is like the stories he brings to life on the big screen – hatke, with an enduring value. The filmmaker recently admitted that the music of Ram-leela is a tribute to the great composers, singers and lyricists. "I'm fortunate that my father introduced me to a wide range of music, from Bade Ghulam Ali Khan sa'ab and Lata Mangeshkar to Shakeela Bano Bhopali, among several other musical gems of Hindi cinema." And SLB has indeed paid a fitting tribute to Bollywood's musical gems and enhanced his skills as a composer, going a step further with Ram-Leela.
Since the maverick filmmaker returns to direction with Ram-Leela three years after scoring his last musical Guzaarish starring Hrithik Roshan and Aishwarya Rai Bachchan, he decided to compose ten songs (phew!) for the Ranveer Singh-Deepika Padukone starrer. This, for simple reason that he didn't want to take the risk of sharing the thoughts his movie characters would express musically onscreen with anyone else. Perhaps the first time that Bhansali's keen ear for Gujarati folk music was showcased was in Hum Dil De Chuke Sanam, which was a musical blockbuster. And after experiencing 10 compositions in his new film, Ram-Leela, we are thoroughly impressed with the artiste's work on each one, making for happy listening right through.
The album opens with Indian Idol 5 contestant Bhoomi Trivedi's vocals on the rock fusion Ram chahe leela. The overall feel and light arrangement of the track belies the more serious tone set by Bhansali. Bhoomi's first attempt at singing for a big banner film is commendable.
One of Bhansali's favourite contemporary singers, Shail Hada is in his element as the archetypal folk song Lahu munh lag gaya starts playing. The track blends a contemporary arrangement of instruments with a distinctly Gujarati folk touch and has the typical Bhansali flavour. The chorus and the rhythmic arrangement are amazing.
Ang laga de is a relatively slow, seductive number, sung well by Aditi Paul. Though it sounds pretty decent, it remains to be seen whether it's visually appealing too! Hada croons the light-hearted romantic Poore chand. Considering Bhansali's fixation for the moon that was so evident in the Salman Khan-Aishwarya Rai ditty Chand chupa baadal mein, this one deals with the same mood and is an excellent track. We hope to see some sparkling chemistry between Ranveer and Deepika in this dreamy song.
Ever since the garba number Nagada sang dhol was unveiled, music buffs – especially lovers of folk music – have not stopped praising Bhansali's efforts, claiming that if SLB has composed the folk-based song just to beat Ismail Darbar's Dholi taro dhol, he certainly succeeds in his mission; Shreya Ghoshal's vocals shine through brilliantly. A perfect sound to rock this year's Navratri celebrations!
The semi-classical number Laal ishq by Arijit Singh (Aashiqui 2) is soothing and soulful, but too slow and tests your patience. Arijit's effortless singing with Bhansali's best musical arrangement makes this six-plus-minute long song a definite must-hear. For some reason, this track seems formulaic and evokes faint memories of SLB's previous work.
Ishqyaun dhishqyaun crooned by Aditya Narayan sounds like the simplest of all the songs and is strictly average. Mor bani thangat kare, with Osman Pir on the vocals, is quite favourably arranged. Siddharth-Garima's Gujarati lyrics seem situational and it remains to be seen what setting this song has in the film, but Bhansali manages to bring in a contemporary sort of arrangement, giving it a memorable sound.
Dhoop se is a haunting melody. Shreya Ghoshal's quiet vocals set against the most minimal of arrangements are immensely evocative taking us into the zone of the classic haunting melodies sung by Lata Mangeshkar. Shreya is superlative in this relaxing number, which is worth a listen. Tattad tattad (Ramji ki chaal) by Narayan junior is already a chartbuster; Aditya is in full form and his masti and crooning style and diction are very like that of his singer father Udit Narayan.
Overall, although Ram-Leela seems to be set in a very situational mould, Sanjay Leela Bhansali manages to deliver the goods. The heavy traditional folk influence means the talented composer has found a bridge between the strongly cultural and completely commercial paths. SLB's soulful music in varied genres and styles dares to be creatively different and succeeds with panache. Undoubtedly, Ram-Leela will have big takers and is likely to grow manifold in popularity in the days to come.
Feel SLB's artistic impulse in almost every song in Ram-Leela and give it a repeat listen to explore the mystical charms of the soulful music. In a nutshell, this is a gem of an album, a loveable experience that should not be missed….
Rating:
out of 5
Reviewed by Dhiren Trivedi
* Poor
** Average
*** Good
**** Very good
***** Excellent