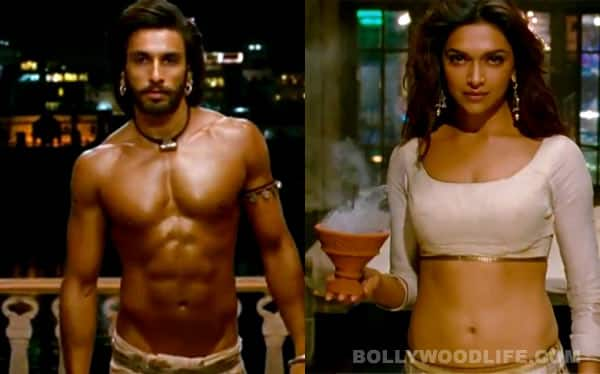 Bhansali has released a new song from Ram-Leela and in this one you get to see lot of Ranveer and his smoldering chiseled body
Sung by Aditi Paul and Shail Hada, Ang laga de is a slow romantic number featuring Deepika Padukone and Ranveer Singh. While DP has been taking away the praises so far, in the new song, it's Singh all the way courtesy his six pack abs and a low…err…very low waist dhoti. Yes, it's the same dhoti that gave a royal dhoka to the young actor while he was shooting for the song. But after watching the video, wethinks Ranveer must be proud of the end result, at least we are. And we admit, Deepika's curves are nothing compared to Singh's six pack abs. Sorry Dips, your co-star takes the cake here!
Unlike Nagada, Ram chahe leela and Lahu munh lag gaya, this song is pretty slow but that has only helped in making DP and Ranveer's chemistry more passionate. Watch the video and you''ll know what we are trying to say. Also, the two lead actors share a sizzling kiss which is nothing new considering we have seen that in almost all the songs, hai na? But we do love to see the oh-so-hot romance between SLB's onscreen Ram and Leela, after all that's the crux of the film, no?
After watching the video of Ang laga de song, we are pretty sure Deepika and Ranveer are going to set the big screen ablaze.
So Bollywoodlifers watch the video, hear the song and rate Ram-Leela co-star's chemistry.