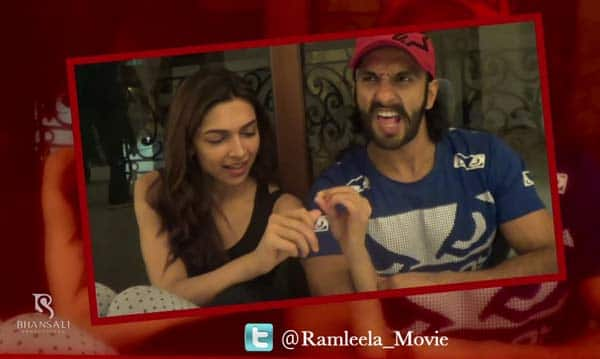 If you thought Dippy and Ranveer were having fun in Ishqyaun dhishqyaun song then you need to watch the making video of this crazy track
We aren't surprised that Ishqyaun dhishqyaun turned out to be a complete entertaining number 'coz the cast and crew of Sanjay Leela Bhansali's Ram-Leela had a gala time shooting this song especially Ranveer Singh.
In the video, SLB's Ram is rehearsing with his Leela Deepika Padukone but that's not all. He is even flirting with the dusky beauty. In fact, Singh even manages to make his director laugh who is otherwise known to be quite strict on the sets. You also get to see Sanjay Leela Bhansali grooving though just for a few seconds but then it's great to watch his not-so-serious side. And yes, there is a scene in the video where DP screams bachao when Ranveer tries to come closer to her. But nothing to worry as the both the actors were in a masti bhara mood. Ranveer making weird faces and Deepika's nakhras make this video even more entertaining.
While Deepika and Ranveer may have worked hard on this film but for Ishqyaun dhishqyaun, the two actors surely indulged in some masti, mazak and had mazaa! Watch the video and you'll know what we are saying….