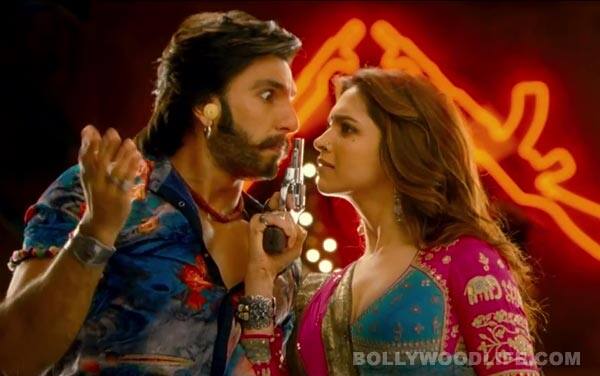 Finally we have a typical Bollywood dance number from Sanjay Leela Bhansali's desi version of Romeo-Juliet and we totally love Ram and Leela's dhinchak moves in the new song
The new song  Ishqyaun dhishqyaun from Ram-Leela featuring Raveer Singh and Deepika Padukone is a full on dhamaal track which is sung by Aditya Narayan. Unlike the first two songs Nagada sang dhol and Lahu munh lag gaya, in this one Ranveer and Dippy go totally crazy while dancing as if no one's watching. Despite being a relatively fast number with wacky lyrics, Sanjay Leela Bhansali still manages to bring out chemistry between his Ram and Leela. The naughtiness in the song and between the couple is hard to miss.
As soon as the song starts, you see a bit of fighting and spanking between RS and DP which adds more tadka to the naughtiness of the song. And once SLB's lead stars start dancing, it's super fun to watch them shake a leg with each other. Also, for a change this time there is no garba or dandiya steps in the song. Now it was an absolute pleasure to watch Deepika and Ranveer play garba in the earlier songs but it's equally entertaining to see them in a more fun avatar doing even funnier steps, hai na?
With Ishqyaun dhishqyuan, Sanjay Leela Bhansali has certainly proved that his Ram-Leela is not jut high on content but high on entertainment too. So check out the video of new song Ishqyaun dhishqyaun and tell us if had fun watching Dippy and Ranveer go crazy.