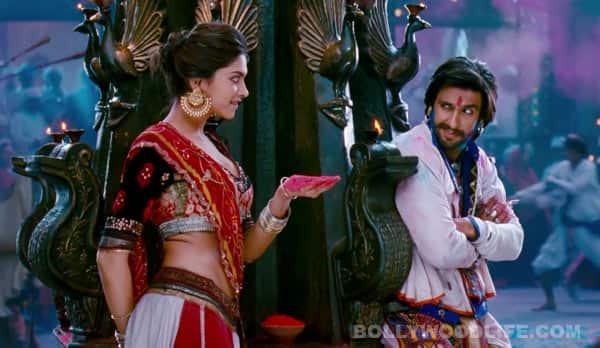 To make this slow garba number a passionate one, the Ram-Leela actors had to work really hard
In the making of this colourful garba number Lahu munh lag gaya, the choreographers – Samir and Arsh Tanna are seen training Ranveer Singh and Deepika Padukone to match steps with each other. Ram's Leela moves gracefully, her looks take your breath away and her enchanting chemistry with Ram is oh-so-hot!
Sanjay Leela Bhansali is getting the dance moves right for the folk number from the lead actors as well as the background dancers. Samir and Arsh say that they have never heard a song like Lahu munh lag gaya. The duo further add, "This song is so beautiful that no one must have ever heard such a song before, and each time they listen to this one, they get goosebumps."
SLB is at the recording studio perfecting the slow paced song. Shail Hada puts his best foot forward with this song. Ranveer says, "It was an awesome experience to see how these songs are actually made." The leggy lass added that the only workout she had to do is to carry the lehengas. We totally agree with you Dipps, especially after seeing the kind of costumes you have donned for the film.
After watching the making of Lahu munh lag gaya, all we can say is that, it is the most passionate song from Ram-Leela. Watch the making and tell us what you think about it.