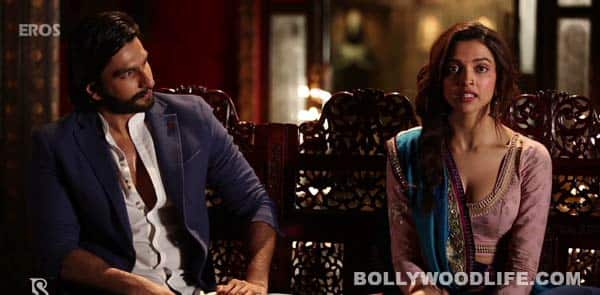 To make this folk song visually appealing, Dippy had made an earnest attempt to put her best foot forward and match up to the fast beats, and Sanjay Leela Bhansali helps her achieve that!
In the making of this splendid dance number Nagada sang dhol, choreographer duo, Samir and Harsh Tanna train Deepika Padukone to match steps with the fast beats (despite her leg injury and swelling). We could see the maverick Sanjay Leela Bhansali and his unit members all set to shoot the Gujarati garba number, as the stylists gear up with costumes and light men making sure the stage is set to roll.
Sanjay is seen at a recording studio perfecting the folk song, as Shreya Ghoshal is seen crooning the song effortlessly. Deepika says, "Nagada is by far the most difficult song that I have ever done. When Sanjayji made me hear the music, I was totally amazed because I haven't heard a tune like this before."
Samir and Harsh Tanna explain, "Sanjay wanted the folk madness in the song. Though we have choreographed the song, his contribution to the song is immense. Sanjayji had tried his best to capture the perfect essence of the rich Gujarati culture on screen. Deepika had a lot of back pain but she shot the song very nicely." Watch the makers and actors of Ram-Leela shoot for the high-energy song!