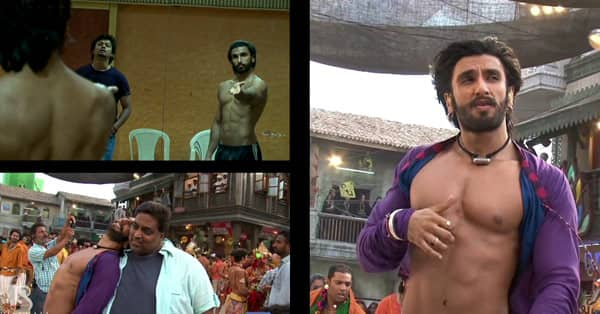 It's an absolute delight to watch shirtless Ranveer show off his moves in this upbeat song but this lad had to work real hard to get his body in shape
Sanjay Leela Bhansali is known to be a disciplinarian and a strict director but that doesn't mean this maverick director doesn't believe in having fun. Going by the Tattad Tattad making video, wethinks Ranveer Singh and the rest of the crew had a gala time shooting this vibrant and colourful song. But at the same time you also see Ranveer working out in-between the shots. The workaholic actor made sure to put his best foot forward while shooting this song. In the video, you also get to see SLB in a different avatar. The director is seen laughing with his cast and crew which we don't hear about often, hai na? And Deepika Padukone is at her wittiest best. Wondering what she said? Well, something about RS endorsing a shampoo product. Confused? Well, we aren't going to give it all away. Watch the video if you want to understand DP's joke. Believe us, it's funny!
Lastly, don't miss the part where everyone starts doing Ranveer's signature step from the song. You'll know what we are talking about if you have seen Tattad tattad song. Now stop wasting your time and check out the fun video!