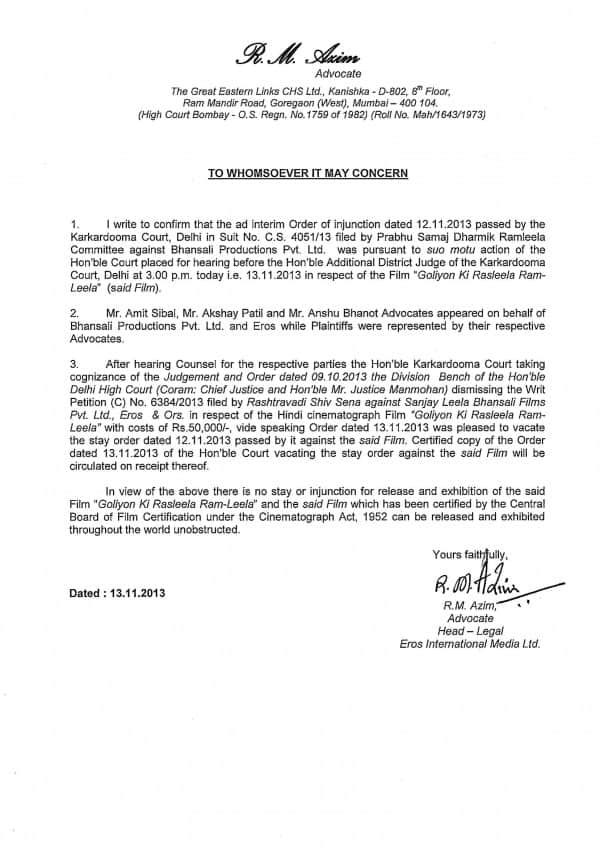 skip advertisement
Ram-Leela makers relieved!
Deepika Padukone – Ranveer Singh starrer Sanjay Leela Bhansali film's release dilemma is finally over. The film will now release on the set date Nov 15. Eros International's Legal team has sent out a copy of this order.
The court yesterday refused to stay the release of the film stating that the petitioner Sandeep Shukla is a member of Congress and vice president of Shree Maharashtra Ramleela Mandal which organises Ramleela performance — based on the epic — every year during Navratri in Delhi can file a petition later and an appropriate order can be passed accordingly. Notices to co-producer Kishore Lulla, Central Board of Film Certification (CBFC), Ministry and Information and Broadcasting, distribution rights holder Eros International and Maharashtra government were also issued by the Delhi court.
Petitioner felt that the film will hurt Hindu sentiments and believes that the vulgar, rude, offensive dialogues and objectionable scenes degrade the religious sentiments. According to  Justice Kanade hearing the case proceedings the image of Lord Ram is embedded in minds (of people) since thousands of years and no one can spoil it. Advocate Pandey said the petitioner only wanted the name changed. "To justify the name, they have named the lead characters in the movie as Ram and Leela. Even the CBFC has overlooked this fact," Pandey said. The petition sought stay on the film's release but the judges did not entertain this plea, adjourning the hearing to November 18.
All Deepika Ranveer fans can be relieved and catch Ram-Leela in theaters tomorrow. But do not forget to catch our review on Bollywoodlife.com!