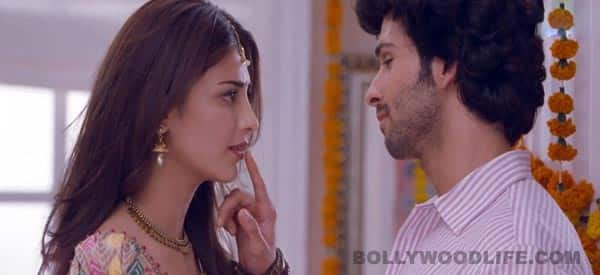 Unlike his previous action films, Prabhu Deva's new production looks mushy and romantic
Those who have watched Prabhu Deva's high octane action dramas like Wanted and Rowdy Rathore, will not believe that the ace dancer-turned-director can have romance on his mind too. In his forthcoming film Ramaiya Vastavaiya, Prabhu Deva portrays a mushy romantic tale that has a feel of those flicks from the 80s and 90s when love was eternal and the made for each other lovers were absolutely over the top.
The film stars the gorgeous Shruti Haasan and newbie Girish Kumar (Taurani). Though Girish doesn't quite look impressive in this 50-second trailer, Haasan makes a solid impression as a chirpy, naughty and innocent village belle. The setting of this film is countryside and it's an out and out romantic drama between a simple village girl and a rich, urban guy. The background score that plays in this audiovisual is sung beautifully by Atif Aslam. The movie will feature Poonam Dhillon, Vinod Khanna and Randhir Kapoor too. Take a look at Prabhu Deva's Ramaiya Vastavaiya and tell us if it leaves you with those tingling I-am-in-love kind of feelings!