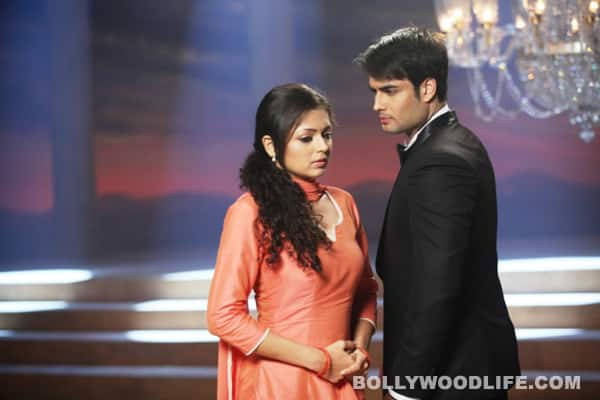 The Sholay director claims that he is impressed with his first peek into Colors' new show. But is he?
It's strange how TV and B-town celebs say one thing when they mean something else. Not that we mere mortals don't do so, but the style in which these guys do it continues to amaze us. We couldn't help but roll our eyes as we listened to two bigwigs (and a few wannabe more minor wigs) praise Colors' latest offering, Madhubala.
The title of the show has given gossipmongers a lot to buzz about, but at the launch of the show yesterday (May 21), Prashaant Bhatt, Weekday Programming Head – Colors, clarified that Madhubala has nothing to do with the real life love story between legendary actors Dilip Kumar and Madhubala. He called it "a tribute to 100 years of cinema". "It's about a girl who is gifted stardom, but doesn't love it. She has to live a life she doesn't want," he said. Till this point we were fine, but the giggles and eye rolls started when Bhatt added, "Indian cinema's biggest film is Sholay. The scenes shot in a rocky terrain in the first few episodes of the TV show were inspired by Sholay." Having just watched the scene (you can watch it here), we couldn't help but wonder from which angle it could be any kind of tribute. One boulder, a rocky terrain does not make. And one gun and a few sidekicks are hardly as terrifying as Gabbar and Samba. Raj Zutshi's portrayal of the evil Balraj Chaudhary is nowhere near Amjad Khan's Gabbar Singh. Then why these unnecessary comparisons? They've already raised expectations by naming the show Madhubala and making us recall images of ethereal beauty – which Dhrashti Dhami just doesn't live up to.
As we chomped on this we realised the statement was just a segue to introduce Ramesh Sippy. Have you seen any connection more long-winded and tenuous than this? You call a director just because his film, one of the greatest of Hindi cinema, inspired one tacky scene in your show? C'mon! It's almost as if this connection was deliberately forced just so that the channel and the makers could strut around claiming that they have the support of the Sholay director. It's a new trend that's slowly gaining ground in telly land –having famous B-towners endorse a show. Remember Abbas-Mustan supporting Chhal – Sheh Aur Maat? Ramesh Sippy however seemed quite uncomfortable with the situation as he tried to praise a piece of work that he could easily see was tacky. He finally said:
"It's very dramatic." (It's a drama so it will be dramatic. That goes without saying, right?)
"It's a story about the film industry." (Yes, we know.)
"Madhubala looks very interesting." (Ahem, is there a more polite noncommittal word in B-town lexicon?)
"We are looking forward to different fare." (Different! Of course! That answers our question.)
"In the past 100 years, cinema has seen many changes. Am sure this will be another beautiful change." (How lovely. Your faith in the show is touching, Mr Sippy.)
After watching a 40-minute clip of the show, our sympathies were with Ramesh Sippy. We wished he had declined to associate himself with the project. We can only hope that the clip has not done justice to the show and that Madhubala is actually a product that our fave director will be proud of. Fingers crossed.