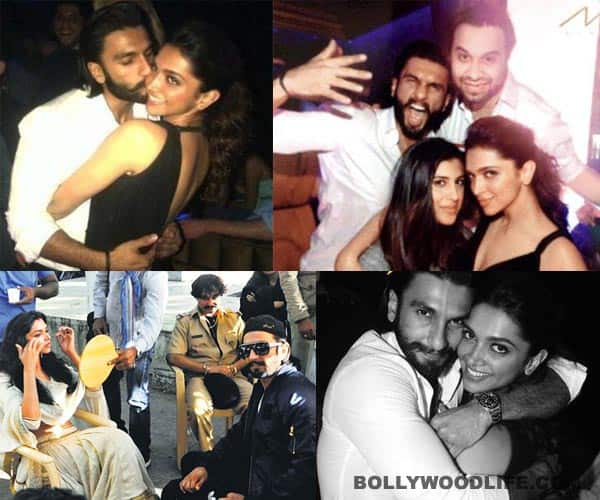 Ramleela co-stars Deepika Padukone and Ranveer Singh were spotted getting all friendly and close at a gathering
Looks like Ramleela actors Deepika Padukone and Ranveer Singh have hit it off pretty well with each other. Although we haven't witnessed their onscreen chemistry yet, the two look superbly comfortable in each other's company while they are not in front of the arc-lights. We managed to lay our hands on a couple of pictures in which DP and RS are getting all cosy – just the way buddies do. Mind you, we are not saying they are an item. We are just glad to see that a ladka and ladki can also be great pals in the Bollywood industry.
While Singh is known for his harmless flirtatious acts, Padukone is known to be this calm, sporting chick who knows how to bask in all the attention without crossing her limits. Our personal favourite is the pic in which Ranveer is giving a peck on DP's cheek to his heart's content. Also the one in which the leggy lass is getting ready for a shot is an interesting one. Seems like Singh is hanging around and killing time, even though it's not his turn to give his shot, and how could we not notice his rapper avatar!
So are Deepika and Ranveer the next BFFs in B-town? Who cares, let them have some fun!