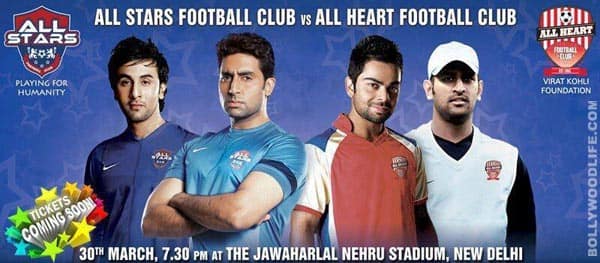 An upcoming soccer match will see the Bollywood superstars take on the Indian cricketers
Looks like our celebrities are increasingly focusing on sports these days! After Celebrity Cricket League, the Bollywood brigade will now take on Team India in a charity football match to be held end of March in Delhi.
B-town celebrities who have confirmed their participation include Ranbir Kapoor, Abhishek Bachchan and Varun Dhawan. From team India, it is MS Dhoni, Virat Kohli and Yuvraj Singh who will play this match. While the cricketers' team is called The All Heart Team, our Bollywood team goes by the name The All Stars Team. Dhoni will be the captain of the cricketers and Abhishek will be leading the actors.
Amitabh Bachchan, who is also crazy about football, tweeted, "T 1060 -This football game for charity for child .. go one go all ..contribute and have fun !! See cricket heroes play film heroes !!" and "T 1060 -30th March JL Nehru Stadium, Delhi, football match. Indian Cricket team, Dhoni, Virat, Yuvraj to play AllStars team .. Ranbir, Abhi"
Incidentally, Ranbir is a huge football fan too and has participated in a number of such matches. Well, looks like our heroes do have a shot at victory this time!