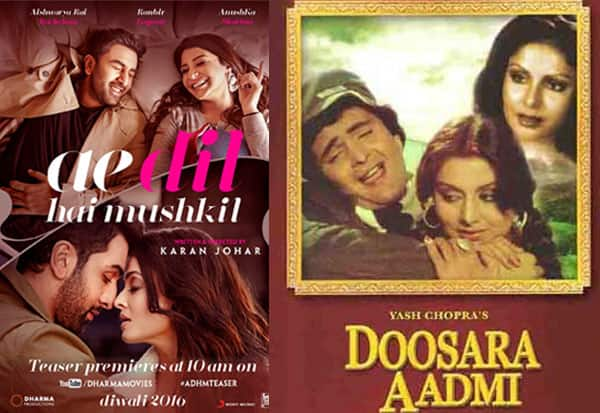 Ae Dil Hai Mushkil is one of the most awaited films in the coming months. There are several reasons to the same. For one it is a Karan Johar film, and any Karan Johar film is not something to mess with. You might love his movies or hate them straightaway, but you can't deny the fact that his films have that kind of colour and grandeur that you cannot see in any other Bollywood film. Sure, one or two film of his may have underplayed at the box office, but none of them have flopped at the box office. Then there is of course the good looking lead actors in the film. Ranbir Kapoor may going through a lean phase in his career (who doesn't?), but that's not something to be held up against the terrifically talented actor, who is all set to surprise you again. After all, which actor can stun you with the intensity of his eyes, as you can see in the the opening moments of the title track of ADHM! then there is Aishwarya Rai Bachchan, who never looked so beautiful in a film before. This is also one of the riskiest roles that Ash has played in a film. And of course, who can forget Anushka Sharma who has just been a part of this year's biggest hit Sultan?
Ever since it was announced that Ae Dil Hai Mushkil will have Ranbir Kapoor having an affair with Aishwarya Rai Bachchan's character, rumour mills have gone abuzz that the film is inspired by his father Rishi Kapoor's Doosra Aadmi. Even Ae Dil Hai Mushkil's Wikipedia page says so, even though Karan Johar has denied it many times. Now that we have seen the trailers and the songs from the film, we can clearly say that apart from the older woman-younger man angle, the film is NOT a copy of Doosra Aadmi.
To start off with, Doosra Aadmi is about how a widow (played by Raakhee) finds similarities between her dead husband (Shashi Kapoor) and the young man (Rishi Kapoor). whose advertising agency she works at.
Here's the trailer of the film….
There have been films that have been inspired by Doosra Aadmi like Ajay Devgn's Yeh Raaste Hai Pyar Ke and Govinda's Dil Ne Phir Yaad Kya. But, Ae Dil Hai Mushkil has no such plot. Sure, Ranbir Kapoor and Aishwarya Rai are attracted to each other, and Aishwarya Rai is elder to him. But that doesn't mean very such pairing belongs to Doosra Aadmi mould. For one, Ash's husband is not dead. Secondly, Ranbir and Anushka Sharma are not married, like Rishi Kapoor and Neetu Singh are in the movie.
Here's the song Bulleya from ADHM that shows Ranbir and Aishwarya's love story stems out of physical attraction…The trailer itself is a huge proof enough that ADHM is more of Ranbir-Anushka love story than Ranbir-Aishwarya affair!
Now do you think that ADHM is inspired by Doosra Aadmi?