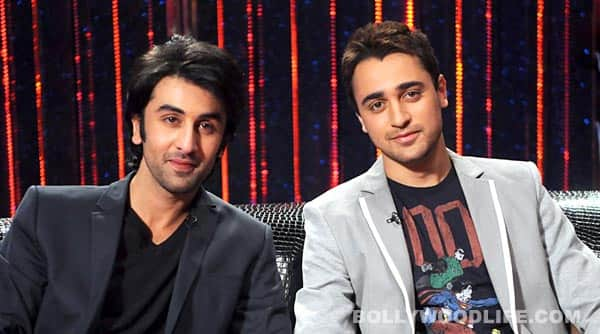 The dashing dudes not only share amicable ties, but ambitions too
If you're an actor in Bollywood, there's only one burning desire you have – to be the top star. Some say it and some don't, but we all know that that's the eternal truth of the glitzy world. So however much they may say otherwise, contemporaries like Ranbir Kapoor and Imran Khan are definitely eyeing the 'Numero Uno' position in the Hindi film industry, but there's one more common factor.
A while ago Immie announced that he would revive his maternal grandfather's famous banner, Nasir Hussain Films. For now the hottie will wear the producer's big hat. The Matru Ki Bijli Ka Mandola actor – he's actually studied filmmaking in the US – wants to get behind the monitors and cameras, but that will happen a little later in his career.
It's no hidden truth that since his entry into B-town Ranboo has been dreaming of re-launching his paternal dada Raj Kapoor's prestigious production house – RK Films. Our buddy the birdie revealed to us that RK is finally seriously working on a plan to do this. And unlike his friendly rival Imran, the Barfi actor has already found a perfect script to bring back the glory to his family banner. We don't know if he will just produce it, or act in it too!
Anyway, what we are curious to know is, who first came up with the idea of reviving the family banner? Did Ranboo inspire Immie to follow the same path or was it the other way around?