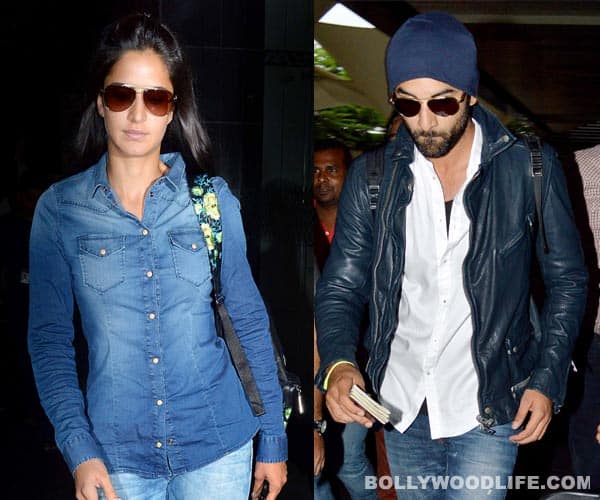 The two were seen avoiding the press at the airport as news of their hush-hush trip got out
Ranbir Kapoor and Katrina Kaif, Bollywood's latest power couple, recently took off to the sunny shores of Spain for a quiet and well deserved holiday. Despite their attempts to keep it a hush-hush affair, it couldn't remain a secret for too long.
Pictures of the two having a blast at David Guetta's concert in Spain were carried in a local newspaper in Mumbai after a fan released the pictures online. The love birds seemed to be having a great time in each others' company. Ranboo's good friend Ayan Mukerji too joined the couple for a while.
As soon as they landed at the Mumbai airport, the paparazzi, who was already alert, went click-happy as the two walked out all sun-tanned from their beach holiday!
And while Ranbir headed home, Katrina rushed to Khar's Hinduja Healthcare Hospital directly from the airport to check on her Bang Bang co-star Hrithik Roshan who is recuperating from a brain surgery.
Well, so much for their secret getaway! We're sure the two won't be too happy with the fan posting their pics. But come on guys, the whole world knows you are dating. What's there to hide!
SEE PIC: Ranbir Kapoor and Katrina Kaif almost kiss in Ibiza: see pic!