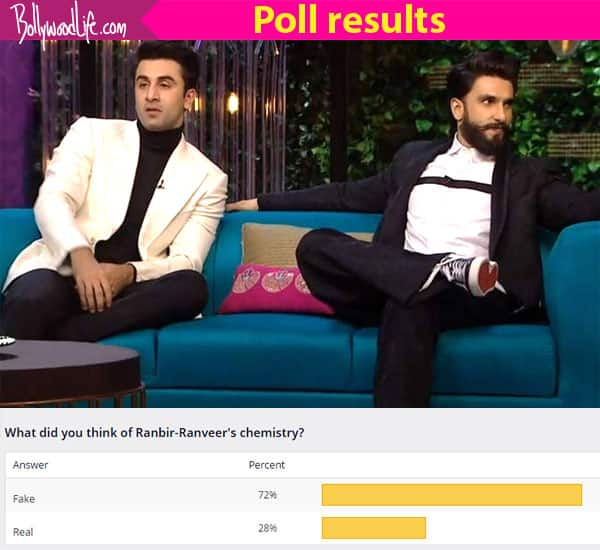 It was the first time in the history that Ranbir Kapoor and Ranveer Singh shared a public platform together. And only Karan Johar could make it possible. Last Sunday the dynamic duo were on Koffee with Karan 5 and they shed their inhibitions spoke about anything and everything, right from love, sex and competition.
Throughout the show both Ranbir and Ranveer  tried to keep their  bromance in full swing, but they failed. Their chemistry looked forced and it clearly looked scripted. Like in the beginning of the show Ranveer said he is not competitive at all, but the moment Arjun Kapoor made Ranbir the winner on being the better kisser, Ranveer seemed upset and even admitted that he isn't happy losing to RK. Also how can we forget Singh's discomfort when RK gave him the movie title Mera Naam Joker . Soon after that, it was Ranveer's turn to make Ranbir uncomfortable, he selected Katrina Kaif to hook up and immediately apologised to him.
Also read: Katrina Kaif watched Ranbir Kapoor's Koffee With Karan episode and here's what she thought…
In the entire episode RK maintained his poise while RS was over energetic like always. But their body language spoke loud and clear that how awkward they are and the chemistry between them was simply FAKE. Though RK and RS are great actors, sadly they could not hide the awkwardness on national television.
BollywoodLife had conducted the poll soon after the episode asking the audience if they found the chemistry between them REAL or FAKE. The result left us stunned. As 72 percent of audience felt they were fake and only 28 percent felt they were real. Ranbir and Ranveer we suggest you guys should actually work hard eron your acting skills coz, ' yeh public sab jaanti hai'. BollywoodLifers your thoughts?

When Ranbir Kapoor was disinterested in what Ranveer Singh was saying.

We're definitely not trying to make up things here. We can't help but notice that of all the pictures that have been released so far, none was able to portray Ranbir and Ranveer's friendly bonding. They all shouted Discomfort. Especially this one, a viewer does get a feeling that Ranbir Kapoor was surely uninterested in what Ranveer Singh was saying and as a result he chose to ignore him. He was looking something below which clearly hints at dissatisfaction and disinterest.

Image credit: Facebook

The distance between Ranveer Singh and Ranbir Kapoor says a lot

We asked a body language expert what these pictures say about the connection between Ranveer Singh and Ranbir Kapoor. He observed that in most pictures the duo has maintained a safe distance despite being in the same frame. There is no physical contact whatsoever. Ranbir has his hands in his pockets. Pocketed hands hint at the person's unwillingness, mistrust and reluctance. And both the actors' lowered eyebrows is also a sign of annoyance or sometimes displeasure.

Image credit: Facebook

When Karan Johar was a middle man for Ranveer Singh and Ranbir Kapoor

If you check Ranbir and Ranveer's expression they have a serious impassive facial expression. Clearly concealing their true feelings about each other. Pursed lips suggest that the person has formed an opinion that is opposite to what is being said or done. It also hints at dissension. Seems like Karan Johar could sense that all was not well between these two actors and he tried his best to ease out the tension in the atmosphere.

Image credit: Instagram

Ranveer Singh and Ranbir Kapoor smile but for a selfie with fans

The two stars' expressions become more relaxed and the picture says it all. This time Ranbir looks at the camera directly while Ranveer winks which suggests that he's more at ease here than in earlier snaps. Looking directly at the camera saves a lot of unease in a situation you aren't comfortable in. Also Ranveer's wink kind of takes the stress off the two stars posing together. They should thank the fans who play a cushion here.

Image credit: Facebook

When Ranveer Singh made an effort but Ranbir Kapoor failed

While the lady in this photograph is clearly thrilled, Ranveer continues with his wink while Ranbir's expression couldn't be decoded. The picture looks as if Ranveer Singh is trying to make efforts but Ranbir's straight face conceals whatever he is thinking.

Image credit: Facebook

Ranveer Singh and Ranbir Kapoor's distance on the couch says a lot about their equation

As an audience, we had a feeling that Ranbir Kapoor and Ranveer Singh sat miles apart from each other on purpose. Though it is very common and Varun and Arjun too maintained the same distance but there was an unspoken aloofness between them. Arjun and Varun giggled together while the latter even slept on Arjun's lap. But the same camaraderie was missing between RK and RS. And knowing how Ranveer is, he can get comfortable with anyone but guess he couldn't connect with Ranbir this time.

Image credit: Instagram

When Ranveer Singh and Ranbir Kapoor thanked Arjun Kapoor

Just notice the smile that came on these actors' faces as soon as Arjun Kapoor joined them on the couch. We assumed that Ranbir and Ranveer heaved a sigh of relief after seeing a common friend in Arjun Kapoor. Ranbir was definitely happier in Arjun's company that he went to an extent of kissing him. We assume Karan Johar must have even blessed Arjun Kapoor in his mind for trying to ease the tension at least for a few minutes.

Image credit: Facebook