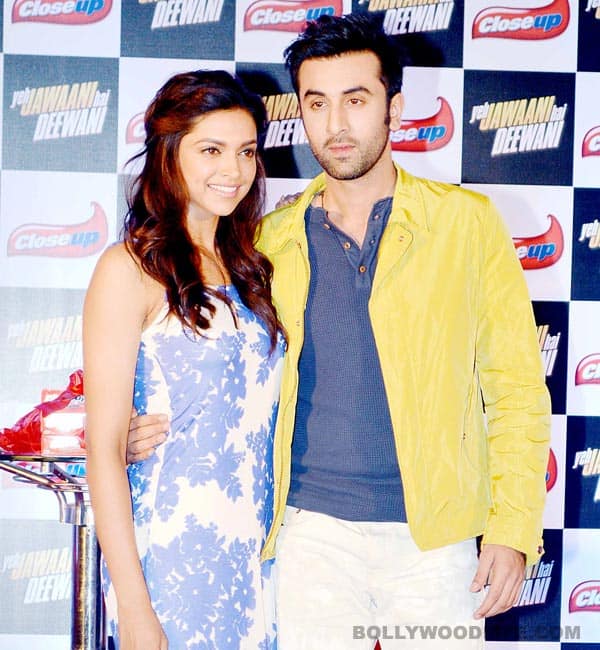 Ahead of the release of their new film Yeh Jawaani Hai Deewani, we sat down with the hottest B-town jodi Ranbir Kapoor and Deepika Padukone to talk about their onscreen chemistry after their brief real life romance
Ranbir Kapoor is a clever conversationalist. The 30-year-old comes to his ex-girlfriend Deepika Padukone's rescue every time he senses that a potentially tricky question is coming her way. With that calm look on his face but the mischievous streak intact, the Barfi! actor knows how to face a volley of uncomfortable and curious queries. No wonder then that the couple decides to do this interview together as an indivisible unit, even as we try our best to get Deepika to talk about the duo's long association, working together in Yeh Jawaani Hai Deewani and putting the baggage of their controversial relationship behind them…
You two are working together in Yeh Jawaani Hai Deewani five long years after Sidharth Anand's film Bachna Ae Haseeno. How do you see each other's journey – both as an actor and as an individual?
Ranbir: Wow! The journey has been memorable and I hope I will cherish it forever. I have known Deepika for six long years. She has surpassed my expectations as an actor. I assumed Deepika to act in a certain way, but given her performance in Cocktail and now in Yeh Jawaani Hai Deewani, I must say that she has surprised me in more ways than one.
Deepika: Ranbir, as we all know, is a fabulous talent and he has only grown from strength to strength as a performer. As an individual he hasn't changed much. He's just the same, a supportive and encouraging co-worker one would die to work with.
Deepika, we hear that Ranbir is a very dangerous co-star to have around, since he is very mischievous on the sets and plays pranks. But the moment he is before the camera, he immediately and almost effortlessly becomes the character he plays, leaving his co-actors a bit distracted. Is that right?
Thankfully, I have not been at the receiving end! I don't know what others thinks of him as a co-star, but his presence makes the mood on the sets very light. Plus, a huge advantage of working with Ranbir is that he surprises you every time with his energy and his intensity which kind of gets reflected on the screen.
Ranbir, you have created a space for yourself in the industry by playing an array of roles in some interesting projects. For every Ajab Prem Ki Ghazab Kahani you have a Rockstar, for every Anjaana Anjaani you have done a Barfi!. How do you pick your films?
I am fortunate to have worked with some wonderful directors who have made me who I am today. I don't have a plan. I don't plan my movies or my roles either, but I try to break the mould with the roles I choose to do. I try not to repeat my characters. I make sure that the project excites me, the role and the story excites me. There's no complete, foolproof formula to achieve success. Even I am trying, but fortunately my experiments have worked at the box office!
Does Ranbir Kapoor believe in destiny?
Of course I do! Jab aap kuch kar rahe ho aur who logon ko pasand aaye, iska matlab yeh nahi hain ke aap bilkul sahi ho. I believe you have to be both hard working and lucky to be in a position where what you do is appreciated by people. Conversely, just because my performances are appreciated by the masses, I can't conclude that I am a perfect actor. There's so much to learn and one has to strive constantly for that.
Does coming from a filmi background help? How much of your success can you attribute to your actor parents?
It definitely does. But as I said before, one has to work on one's craft constantly to be better at it every day. My father Rishi Kapoor is ten times more passionate about acting than I am. The other day he was watching my song on TV and he shouted at the screen: 'Ranbir, zara jor se gaya kar, lip-syncing convincing nahi lag rahi hain!' So that kind of guidance helps. But beyond that you have to be aware of the character you portray; you need to understand the nuances and give your best every time. In the long run, I don't want to be associated with my parents in the sense that I should be known for my work. My identity has to be my work, nothing else!
Deepika, how do you reinvent yourself? Now that you have achieved commercial success, will you experiment more with unconventional roles in the days to come?
Only when I am convinced about the script and know that I can pull off some challenging roles. I think my character Veronica in Cocktail was very challenging. I don't think I can play a character more challenging than that of Veronica. I am very comfortable being in my space. I enjoyed playing my part in Yeh Jawaani Hai Deewani. I can relate to the character (Naina) I play in this film. I see shades of my real life personality in this character.
Ranbir, after the success of Rockstar and Barfi! you are being hailed as the next big thing in Bollywood? How does it feel to be on the top?
Next big thing ka matalab hain ki aap abhi bade nahi ho. Aap big ban sakte ho, lekin abhi toh aap udhar pahoche nahin ho. I feel more responsible now after the love and affection I have received from audiences and from the media. But I feel I need to be consistent with my performance. In the next 15 to 20 years, agar main zinda raha toh, I would like to create the brand 'Ranbir Kapoor' that will be synonymous with some fabulous work.
How did you two put the baggage of your past – your relationship and then the break-up – behind you before coming together to work on this project?
Deepika: We are mature individuals and above all, we are actors first. So I don't think we being ex-lovers was a problem for us to come together for Yeh Jawaani Hai Deewani.