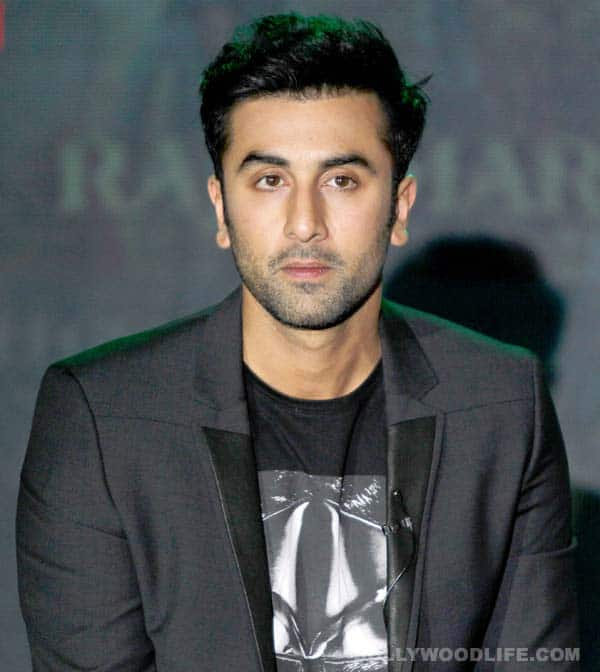 Looks like the Bombay Velvet actor is not ready to get hitched with his ladylove anytime soon
Ranbir Kapoor is honest, interesting and very charming when he wants to be. Reports of moving home and getting married disturb him, but he says be can't clear up every rumour. Here he clears the air. Read on for excerpts…
You recently got into a partnership with a digital music company…
It was a great business opportunity. I don't consider it as a brand endorsement where shooting for the brand takes five days for the product and uses me as an ambassador. I have been using Saavn for years. I have the app on my phone. I can listen to the music I like and make my own playlist. It's exciting to be working with the team now. I first met the founders, Paramdeep Singh (Param), Rishi Malhotra and Vin Bhat, in NYC in 2012. Early discussions for a partnership quickly ensued, and the framework for an intricate collaboration was designed over several meetings in New York and Mumbai. I was very excited when they came with to me with this amazing partnership deal. All this is fascinating and it's something that I am very proud of. I'm excited to be part of the Saavn family. It's not just that I am there because I am being paid. I am excited that they are trying to broaden their horizons, building a brand and trying to get as many users as possible across India and abroad. Apart from being the face, I will also be a small business partner in the Saavn family. I think that's what really excited me.
You will be involved in all the creative aspects?
Yes, including the marketing, business development, content programming. I do involve myself in the marketing and creative meetings as much as I can. I'll be helping to guide the brand, influence programming, connect with the next generation of music listeners and ultimately help build the best music product in India, and potentially the world. And this is only the beginning. I look forward to being involved in a more business-centric capacity in the near future. Param is also a dear friend and in the last couple of years I have been to New York, I have spent with his family and he has been really warm towards me and my family.
How big a part of your life is music?
Music is a big part of my life. I am a big fan of all kinds of music, especially Hindi film music including new and old. I love Kishore Kumar, Mohammed Rafi, Mukesh, Lata Mangeshkar songs — I listen to all of that. In Western music I like the blues, Imagine Dragons, Mumford & Sons, Jack Johnson, John Meyer. I have more than 3,000 songs on my playlist. We live in a city where we are stuck in the car for most of our lives, and so music plays a very important part. Music is very rooted in our culture especially for us actors where it inspires us to do certain scenes, be it approaching an emotional, dramatic or romantic scene. Music is something that really evokes a certain feeling inside. So now with Saavn I can do all that — make my own playlist according to my moods.
Name three of your favourite Bollywood songs…
Kisike muskurahaton pe ho nisaar, Kabhi kabhi mere dil mein khayal aata hai and if I had to name a song from my own film I would probably say Ilahi from Yeh Jawaani Hai Deewani.
You are turning into quite the businessman — first with Jagga Jasoos and now a partnership with Saavn.
Businessman I don't know (smiles). I leave all that to Param, Rishi and Vin but I think as much as my experience can entail and how much I say about the dos and don'ts, the rights and wrongs, how much I can guide having being in the film industry, I try and tell them that.
Are you an internet addict?
I think the entire generation is online today. I think, to engage users, especially the new generation, is very important because that's where the future lies. More than television or films, people are accessing information through their phones, computers and iPads. I don't think we have been able to tap that market completely but then for the promotion of our movies, digital marketing is such an important factor today so hopefully Saavn for me is that one-step towards the digital domain. Hopefully, I will get to understand it better and use it to channelise the marketing of my movies.
Why aren't you on social networking websites like Twitter or Facebook as yet?
There are many reasons. Firstly, I am a little shy. I don't have anything intelligent to say. I also believe that an actor should maintain some mystery about himself and being on Twitter and FB really takes some of that aura away and disbalances you. I am also not on Instagram. Whoever is there in my name is not me. So please clarify that. And I think unfortunately if I can say this, a lot of people think that actors have a voice on these social networking websites but I don't think we have an original voice. Whatever we say on these social networking websites is so misconstrued and exaggerated and so many meanings the media takes out which the public believes in. So there is the little fear of being misunderstood. How much do you clarify or contradict? It's a double-edged sword — sometimes it works for you and sometimes it doesn't. I have nothing against them. I have, as a ghost, been on these social networking websites like Twitter to see what it's like. I have googled myself to see what people are saying about me and there's so much love and at the same time there is so much of negativity, that sometimes it can bog you down while the love can inspire you. But it's better to just stay away from all this and focus on your work and let your work talk, not you.
So you will never join these social networking websites?
Never say never… But as of now? No.
Is the Jagga Jasoos shooting schedule is delayed.
It's not delayed. What happened is that being in a film industry and coordinating with the dates of various artistes is tough sometimes. If one thing goes wrong everything snowballs into a little bit of a confusion. Bombay Velvet was pushed. We did 50 per cent of the film and then we had a five-month break because the entire set was put up in Sri Lanka and because of the rains they had to take a break. I could not finish most of Jagga and then of course Katrina got busy with her other commitments; it happens everywhere for many films. There's always so much conjecture for the reasons why it got delayed… was pretty stupid. It's because of Bombay Velvet that all this happened but now I am getting back to Jagga and I start shooting for it from September 15. I have around 85-90 days of shoot left, we have hardly done any of the film yet. So looking forward to it. Hopefully once we all get our groove back it will all move fast and the film should release by mid next year.
You are shifting from your bungalow to another apartment in Bandra?
I live in a house called Krishna Raj. I was born here and it's my father's house. Because we have a certain amount of space, we are going to redevelop it and make it bigger. Hence we have to move out of the house because it's going to be redeveloped into a bungalow for all of us to live together. I have no intentions of leaving my parents. I have a lot of freedom in my home. There's no sense of suffocation or lack of my space. It's all again stupid conjecture! Yes, I am moving out of my home temporarily but till the time it is redeveloped and we are ready to move back in. Who I am moving in with, have I bought a home? No I haven't bought any house. My mother has invested in a property in Bandra a long time back where we all will be shifting till the time the construction work is complete.
What is Ayan Mukerji's film about?
We don't know what it is yet. Ayan knows and he is working super hard for it because it's beyond his years and the genre and kind of films he's trying to make. I have complete faith in him. I know the feeling and genre he's attempting but we are a long way away from that as we begin shooting from August next year. Let's cross our fingers and hope he can achieve what he's attempting because it's beyond a man of his age to have that understanding of literature, mythology, super hero, fantasy — he's trying to put all of that into his movie.
Alia Bhatt and you are paired in Ayan's film…
(Interrupts) Alia is a bundle of talent. I feel so good when I see actors at such early years doing such good work like Highway, Humpty and 2 States. Her performances have bowled me over and I am very excited to work with new energy. I hope we can channelise both our energies towards a good purpose and come out with good films. Apart from Alia, Shraddha, Parineeti, Sushant, Arjun, Ranveer, Siddharth and Aditya Roy Kapoor — they are all doing such great work and all so inspiring that I watch their movies and abuse them jokingly that how can they do that and how can they do better than that? But I think it's healthy competition between us. We all hang out with each other, know and message each other. We all inspire each other to do good work without any negativity. But I am also happy that they are all doing so well, so good at their work, their intentions, minds are so original, work is original, not trying to copy other's work, nobody's trying to follow other's career graph and copy each other but doing things they believe in. I am really looking forward to their movies and working with all of them. I hope I can inspire them as much as they are inspiring me.
Last but not the least, when are you getting married?
As of now I don't have any marriage plans. Yes, I do believe in marriage. I do believe that meri umar badh rahi hai and thoda buddha ho raha hoon (grins) but as of now I am focussing on my movies. I am very happy in the place I am in right now. I am very content and blissed but hopefully soon. Who knows when?