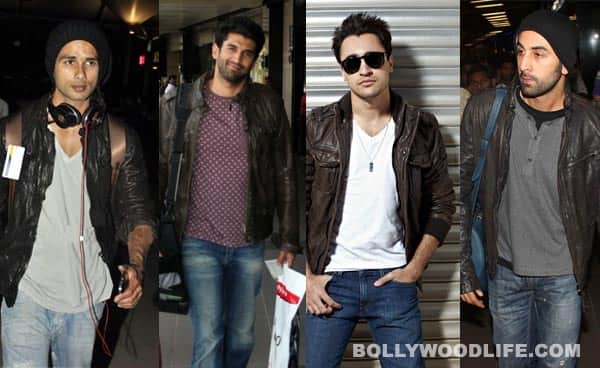 A leather jacket gives an instant edge to your sex appeal. And B-town hotties prove the point by wearing them with panache and oodles of attitude. Take a look at this young brigade sporting ruggedness and chic with tremendous flamboyance, and tell us who carries this style statement absolutely effortlessly….
It's raining leather jackets! We spotted some of B-town's hautest hunks who know how to up their style quotient by throwing on a really hep leather jacket just before leaving home. If Ranbir Kapoor shows you how to keep it uber-cool by wearing a tanned jacket over a comfy tee and stone-washed denims, Shahid Kapoor uses the fantastic combo of a pale V-neck tee that puts on display his bronzed skin (read: cleavage), a monkey cap and a dark leather jacket to best effect.
While Sasha's fancy headphones made him look in the mood relax on a flight, Ranbir's dinky blue bag gave an on-the-go feel to his dapper personality. We liked the way Aditya Roy Kapur teamed a polka dotted tee with a dark brown jacket. The Aashiqui dude's stubble added to his charisma and the swank leather coat made him look even more charming.
And then there were the two chocolate dudes – Imran Khan and Sidharth Malhotra – who chose to wear their starry attitude right on their sleeves. The honey-eyed Khan stud kept it swanky with his jacket, sunglasses and silver chain. He balanced the entire look by wearing a simple white tee and regular jeans. The Student Of The Year lad appeared at an event recently after throwing on a cool black leather jacket. The charmer decided to tuck his grey tee into his pants and sported a brown belt and coffee coloured shoes. Though there was too much leather on display, Malhotra's tall frame and the way he carried himself made him look simply delicious.
Now you take a look our jacket-special gallery and tell us who turns on the charm in the sexiest possible way!