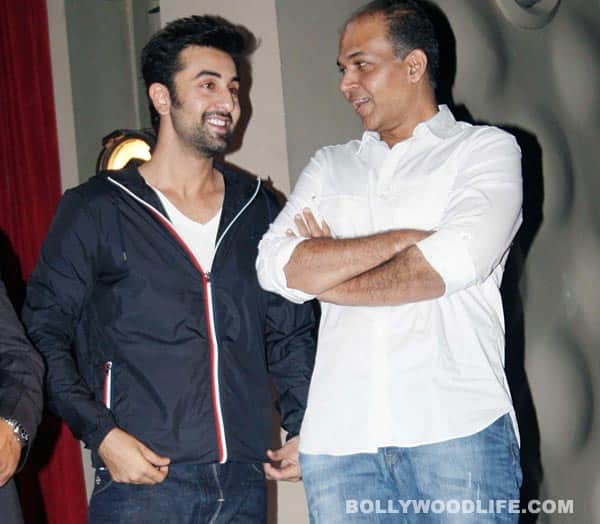 Exclusive: We heard from Ashutosh Gowariker that he might be contemplating casting Ranbir in his next, a follow up to his Shahrukh Khan-starrer
While DisneyUTV big shots Ronnie Screwvala and Zarina Mehta are doing a great job of trying to create ideal Indian villages in the heartlands of Maharashtra with their NGO project, it seemed kind of strange that Ranbir Kapoor was present to support the cause along with Ashutosh Gowariker (and Farah Khan).
Why? 'Cos the organisation doing all the good work has just been renamed Swades, from the earlier SHARE (Society to Heal Aid Restore Educate). Now Swades is one of director Gowariker's most appreciated films produced by UTV, although it did average business at the box office. And the movie starred Shahrukh Khan in what is one of his most loved roles of a NASA engineer who returns to his roots. In an ideal scenario, SRK would've been there by Ronnie and Zarina's side to endorse the special effort.
But it was our Rockstar Ranbir who was present, just back from the Busan Film Fest where his recent release Barfi! was shown. Dressed in jeans, T-shirt and what looked like a gym jacket, Ranbir seemed to just stop over at the venue on his way to get dressed for his cousin Kareena Kapoor's sangeet ceremony (we didn't spot him there though!).
And what came as a surprise to Ranboo was that Gowariker announced that he might just make Swades 2. So the audience assumed that Ranbir and Farah, who were present, might be part of the movie. While director-choreographer Farah made her acting debut in the recent Shirin Farhad Ki Toh Nikal Padi, Ranbir made his place in the hearts of viewers with his varied roles starting with Saawariya. So why not do Swades 2?
Meanwhile, The Swades Foundation is going great guns in rural India, bringing direct drinking water lines, education and sanitation in villages. And Ranbir shyly confessed that this is the first cause he has been associated with. About time, dude!
But hey, do tell us if you would like to see the Barfi! actor in Swades 2…if it ever happens!