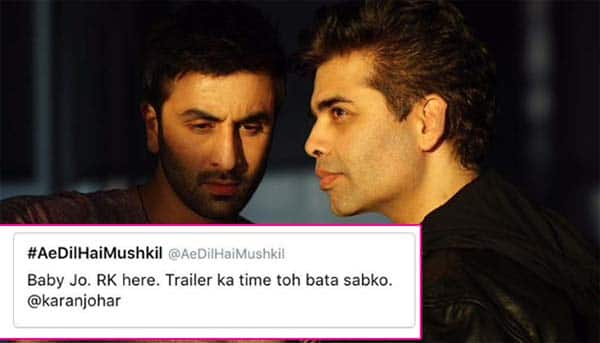 Hah! We didn't know that Ranbir Kapoor actually calls Karan Johar as Baby Jo! Okay, that shouldn't be our focus right now because the bigger news is Rk Jr just hacked into Ae Dil Hai Mushkil's Twitter page and had a funny exchange of words with his film director! So not just Ranbir and Karan but the entire cast of ADHM that also stars Anushka Sharma, Aishwarya Rai Bachchan and Fawad Khan are also quite pepped up about the release. After releasing an intriguing teaser plus two songs from the film, the makers left us with an aching anticipation which will finally be quenched tomorrow as the trailer will be out.
Before the release of the trailer, looks like an overexcited Ranbir wanted Mr Johar to announce the time of the trailer launch again! The charming actor literally took over Ae Dil Hai Mushkikl's Twitter handle and posted a tweet, "Baby Jo. Rk here. Trailer ka time toh bata sabko. @karanjohar." To this, he got a very apt revert from Johar, who said, "RK!!! Will tell the time when you get officially onto this amazing platform called @TwitterIndia." Of course, this one hit the nail on the head as we have been dying to see this young Kapoor make a Twitter debut and own the micro blogging site! Although, on several instances, Kapoor Jr has made it pretty clear that he is in no mood to hop onto the social media brigade like his contemporaries. In fact, even recently in a tell-all interview with Rajeev Masand, the actor revealed how he found the platform full of fakeness and he didn't like the idea of the same. Wow, clearly, he is going the Kareena Kapoor Khan way as she too stands firm on her no joining social media policy! (Also Read: Was Ranbir Kapoor on Tinder while he was dating Katrina Kaif?)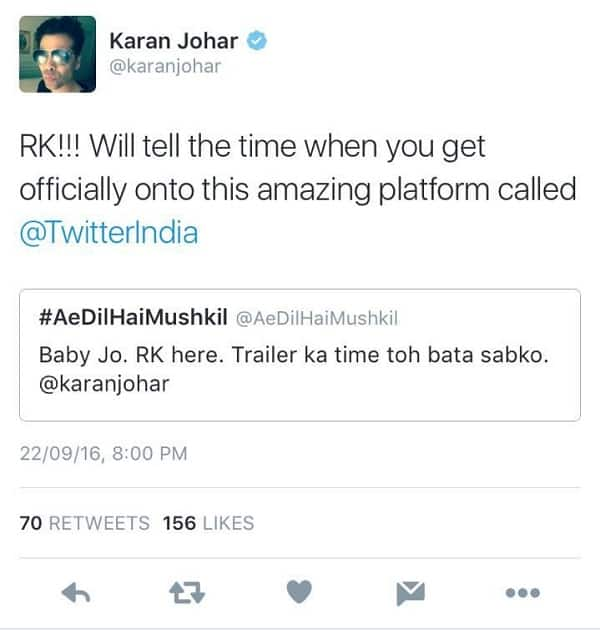 Currently Ranbir Kapoor has a lot to look forward to. Ae Dil hai Mushkil clearly seems like a film that might bring back Kapoor's hit streaks. remember those years when every film that Rk Jr did was a money minting venture? Well, from the lavish looks of ADHM we believe this might bring back his winning streak too. So far we're seeing a lot of awesome stuff from the Ae Dil team. The trailer is all set to release tomorrow morning and there's a lot of excitement around the same. The film will be clashing with Ajay Devgn's Shivaay. Both the films have been at loggerheads. Even though their genres are totally different, we're still seeing a lot of tension between the Ae Dil and Shivaay clan. (Also Read: We just found out what Ranbir Kapoor's FETISH is!)
We wonder who will dominate the box office this Diwali. As for you BollywoodLifers, stay tuned to this spaec 'cause we're gonna get the trailer of ADHM for you!