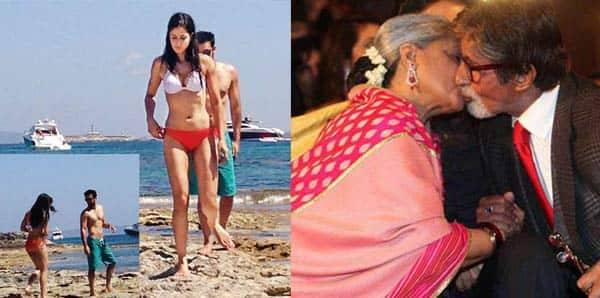 skip advertisement
Various B-town couples have been indulging in some PDA over the past few months. Some admit they are in a relationship, while other prefer to keep us – and you – guessing. Have a look at our list and tell us who you think is the most loving couple…
Valentine's Day isn't even here yet, but love has already started blooming in B-town. It's been quite a while that we have been seeing a lot of B-town couples indulging in PDA. From Aamir Khan's kiss to wife Kiran Rao on Koffee With Karan 4 to Amitabh Bachchan and patni Jaya Bachchan's liplock at an awards show… we've been watching it all.
And we came up with a list of B-town jodis who just can't stop displaying their affection for each other in public. Take a look and tell us who you think is the most romantic jodi in tinseltown….
Amitabh and Jaya Bachchan – It was quite a rare sight to see Big B and Jaya B locking lips with each other at an awards show, even as their son Abhishek Bachchan watched, seated between them. The hubby-wifey have attended thousands of awards shows and events together, but we have never ever seen them getting so passionately… err… close. So did the missus get insecure about her hubby's rumoured 'other woman'? Because at the same do, not too far away, sat Bachchan's alleged one-time lady, Rekha. And the women had exchanged pleasantries a few moments before. Was Mrs B's sweet kiss with her patidev to show Rekha that 'mera pati sirf mera hai'?
Aamir Khan and Kiran Rao – Aamir Khan along with wifey Kiran Rao appeared on Karan Johar's popular chat show, Koffee With Karan for the very first time. And it was quite cute to see the perfectionist kissing Kiran on the lips as he greeted her, hai na?
Deepika Padukone and Ranveer Singh – They might have not admitted to a romantic relationship, but their heavy-duty PDA makes it quite obvious, no? So be it Ranveer planting a kiss on Deepika's cheek at a Dubai nightclub or the warm hugs they shared during Ram-Leela promotions, these two come across as a madly-in-love twosome. Are they or aren't they?
Ranbir Kapoor and Katrina Kaif – Same is the case with these two – they haven't come out in the open about their relationship either, but leaked pictures from their romantic escapade to Ibiza – which had Kat in a mismatched bikini and a topless Ranbir – clearly showed that they are more than 'good friends', hai na? The two were also spotted holding each other at a David Guetta concert, which further proves our point.
Nargis Fakhri and Uday Chopra – Like Ranbir and Katrina, these two lovebirds also decided to holiday on a beach, but in the Maldives. And interestingly, a very similar picture of them was leaked, showing Nargis in a black bikini and Uday Chopra in trunks. Too inspired, you think?
So now you tell us – who according to you is the most romantic jodi in B-town?