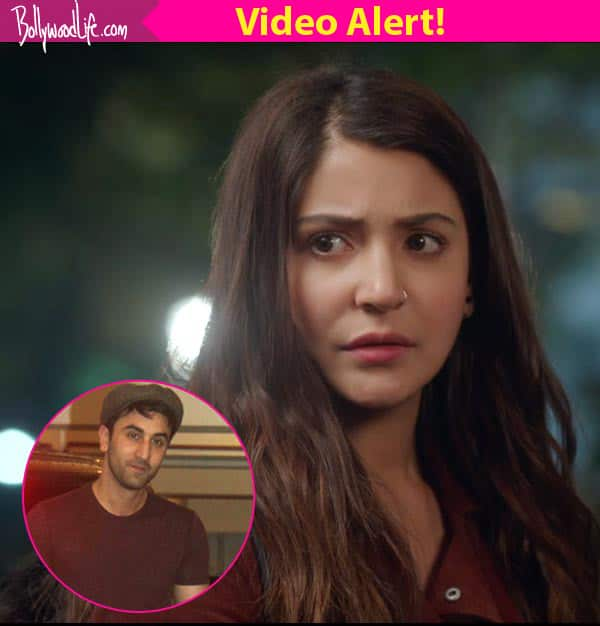 Yeah! Ranbir Kapoor embarrassed Anushka Sharma big time by revealing her secret. Now we all know that RK and Anushka share a great bond. They have worked in two films together – Bombay Velvet and Ae Dil Hai Mushkil.  Today they are best buddies and being BFF's  recently Ranbir revealed the unknown fact about Anushka which might surprise you. Now we know Anushka doesn't have a filmi background and has achieved everything on her own. There was a time when Ansuhka was really naive and didn't even know how to hold a glass of wine. Yep!
Ranbir reveals that during Karan's party Anushka was skeptical to have a glass of wine and went to him for help. RK shares this funny incident, "I remember Karan Johar had invited Anushka on his birthday party. I think it was her third or fourth year in the industry and she was out of place. She was holding a goblet of wine and she didn't know how to hold it. And I know her too well, so she comes to me and says " Yeh Karan Johar ki party mai sirf wine hi pi sakti hu ya beer bhi pi sakti hu? (In Karan Johar's party I can only have wine or I can have even a beer) ". She was very naïve, somebody who is like a village belle who is come here ". However Anushka wasn't too happy with RK's revelation and said, "What the f*** are you saying". Ranbir soon questions her why is she using abusive word".
Also read: Shah Rukh Khan and Anushka Sharma will no longer shoot together for The Ring
Karan Johar too was a part of the conversation and had a good laugh over Ranbir calling Anushka a village belle.  Anushka reminisced that incident again. She said, " I think Hrithik gave me that glass of wine and I was like can I not have this and have a beer". Clearly RK left Anushka red faced. No?
Talking about their upcoming film Ae Dil Hai Mushkil, it is story of unrequited love. The trailer and songs of the film has already a huge stir and the audiences are looking forward to watch the film. RK and Ansuhka's chemistry too has left everyone talking and they are eagerly waiting to witness them onscreen.
Ranbir Kapoor can't take his eyes off Anushka Sharma

Ranbir Kapoor gets love struck as Anushka Sharma walks in wearing her wedding dress. Isn't that the moment we all dream of?

Image credit: Youtube

Ranbir Kapoor charms his lady love by singing Channa Mereya

As Anushka Sharma arrives Ranbir takes over the mic to dedicate a song to the bride-to-be.

Image credit: Youtube

Anushka Sharma and Ranbir Kapoor's candid still from the song is something you will want to recreate

In Channa Mereya, Anushka Sharma holds Ranbir while he blushes and hides his face. This still is the cutest thing you will see today.

Image credit: Youtube

Anushka Sharma warmly caresses Ranbir Kapoor as he gets teary eyed.

This Awww moment between Anushka and Ranbir is something we all have experienced. Watching Ranbir teary eyed just breaks our heart.

Image credit: Youtube

Ranbir Kapoor admiring Anushka Sharma as she talks makes him the idle boyfriend.

This adorable still of Ranbir Kapoor makes us envious of Anushka Sharma for having those dreamy eyes on her.

Image credit: Youtube