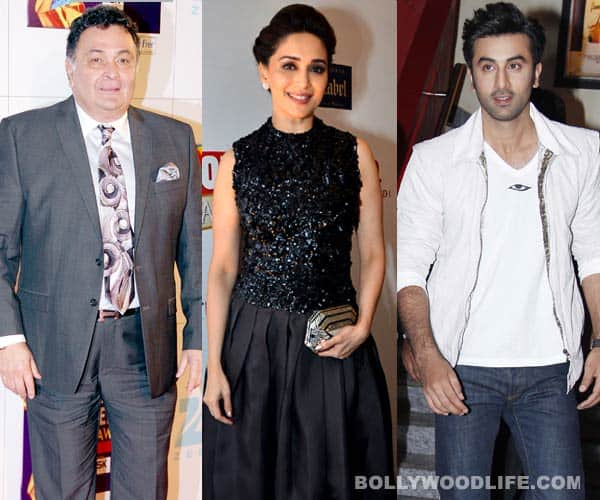 It's a new twist on the classic triangle – the son likes the woman who dances with him to Ghagra in Yeh Jawaani Hai Deewani; the woman likes his father better. And we like the delightful story that it tells!
You have all seen Ranbir Kapoor dancing with Madhuri Dixit-Nene to Ghagra from Yeh Jawaani Hai Deewani. And you have heard the stories of how Ranbir has always had a 'thing' about La Dixit, as she was once called. He has even said that he is in love with her – yeah, all you babes waiting in line there, forget dreaming, our Casanova Kapoor's heart is already given to an older woman. Is that why he reportedly has commitment issues with his various girlfriends, we have to wonder – and has been for ages, ever since he was a little boy and saw her on the sets of a film. Ranbir even bribed choreographer of Ghagra Farah Khan and director of YJHD Ayan Mukerji to let him kiss the dancing diva during the song, remember?
But when he reads this, the young man's heart could be broken, at least for the next few minutes. Madhuri has said that she actually likes Rishi Kapoor, Ranbir's fond papa, more…or at least, that was implied. "Rishiji is charmer for sure. He is very sweet and I had lot of fun whenever I worked with him." Which to us says that they talked and laughed and enjoyed working together in films like Sahibaan and Yaraana. And beta Ranbir? Well, things were not as free and easy there, which means that sonny boy could have lost out to daddy dearest. "Ranbir is shy. On the sets, he too was very nice. And as a dancer, he is terrific. He has a lot of energy."
But did the shyness mean that Madhuri – who is not quite old enough to be his mother, unless she started very early – was not as charmed by Ranbir as she was by Rishi? Seems like it, no?