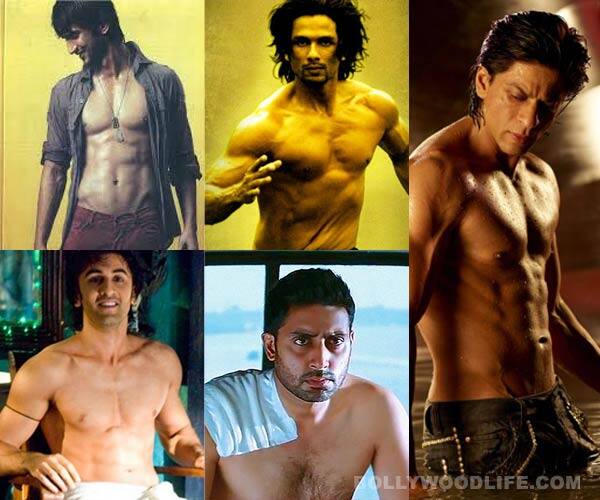 Yeah, a bra is a piece of lingerie that is meant for women, but what if something on similar lines was available for men? Who would wear it? We want to know, who should wear it? Or even anything else that will help them show off a little muscle. You tell us….
To sport a bikini, female actors have to go through rigorous workout sessions. To appear on the silver screen, even hotties like Deepika Padukone, Katrina Kaif and Priyanka Chopra must be perfectly shaped. One slip and the fashion police will have a field day. So often gals without the right shape may resort to control lingerie and enhancements to look flawless onscreen. The latest goss is that men do it too – yes, muscle-enhancing push-up bras for men are selling like hotcakes! You couldn't blame them, no! After all, anyone would like to look sinewy and muscular without having to hit the gym, hai na? We took a look – tongue firmly in cheek – at a few B-town hotties who could use innovative innerwear for enhancement or containment…you decide which they need most…..
The playboy of B-town Ranbir Kapoor is a good place to start. The Kapoor lad is more obsessed with flaunting his derriere than showing off his front, and for a good reason too. This fella can certainly use an enhancement for his chest, no? His lean and mean body will certainly look a wee bit more masculine and macho, since his natural body type is lean and stringy rather than bulky and bold.
And there is the King of Bollywood, Shahrukh Khan. He wins hearts with his dimples, but rarely with his body. Remember when he dared to bare in Dard-e-disco? We wouldn't call that 'hot', even though he did manage to get his abs defined, his shoulders buff and all that good stuff. Like Ranbir, SRK is made lean. His chest could use puffing up if he was going for the macho look. Frankly, all he needs is his charm and his usual wardrobe style – with a little padding, perhaps!
Abhishek Bachchan may have been a part of the Dhoom series all through, but his baby-pudginess has not left him, no matter what stories we hear about his working out. And in contrast to others in the movie franchise, he certainly looks kinda…err…dheela. Be it opposite Hrithik Roshan in Dhoom:2 or Aamir Khan in Dhoom:3, or even Uday Chopra in all the Dhoom films, Bachchan Jr gets nowhere close to these actors in terms of a hot body – and wethinks he knows it, coz he is always nicely covered up. We get it – he plays a cop in the film and has to be sober and staid, but he could be a hot cop, no? Aamir Khan did it in Talaash; Ajay Devgn did it in Singham; Salman Khan did it in Dabangg. Abhi's height could use a little width across the shoulders and chest, don't you think?
Shahid Kapoor with his chocolate boy looks is quite charming and can create a frenzy in a room full of women. But he shouldn't take that shirt off. And if he does, he certainly shouldn't run. Remember the lad in Kaminey, running with the horses? His hair bounced, his…ummm….chest bounced more than Shilpa Shetty did in Dostana. Oh boy, he could certainly use a bit of support up top – after all, in the past he used butt pads for a more rounded derriere, the story goes. Wink, wink!
Two-film-old Sushant Singh Rajput is pretty young and fresh and now is the time he needs to create an impact. Though Sush doesn't have a bulked up body to flaunt, the guy doesn't shy away from wearing his shirt unbuttoned or even taking it off. A muscular chest would make him look much more hunkalicious, true, but we'd prefer he'd button up and use a little support underneath.
Of these B-town hunks, who do you think needs help? You tell us…