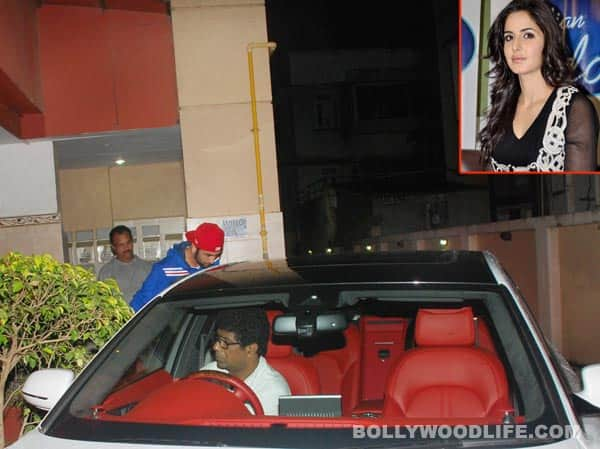 skip advertisement
And it makes curious cats like us wonder if something special is brewing between the 'good friends'
A few weeks ago we told you that pretty face Katrina Kaif was spotted leaving Krishna Raj – her alleged 'just good friend' Ranbir Kapoor's family bungalow. Whether she likes it or not, every time the Ek Tha Tiger lady's love life is mentioned, the Barfi! actor's name is sure to pop up in people's heads.
The latest hot goss from our khuifya khabri is that last night (September 14, 2012) post 12 am Ranboo, dressed in light blue jeans, bright blue shirt and a red cap worn backwards – portraying a college yuppie – was seen leaving the building in which Kat lives. No, not the new plush pad she recently bought in Lokhandwala, but her old apartment in Bandra. And we have photographic evidence to back our breaking news.
Do notice in the pictures that RK junior isn't scurrying to his fancy four-wheeler or glaring angrily at the paparazzi peeps for catching him outside his rumoured ladylove's house. He calmly walks to his Audi, doesn't look at the photographers and within minutes of getting into his car, gets busy with something that looks like the controller of a gaming machine.
So what was Ranboo doing at Kat's place so late in the night? We don't know! But we do care, 'coz both singletons keep harping on the fact that they are not in a romantic relationship – 'I'm single to the extent of embarrassment', Ranbir said recently – but continue having their midnight rendezvous at each other's homes. And all this makes our wild imaginations run wilder!