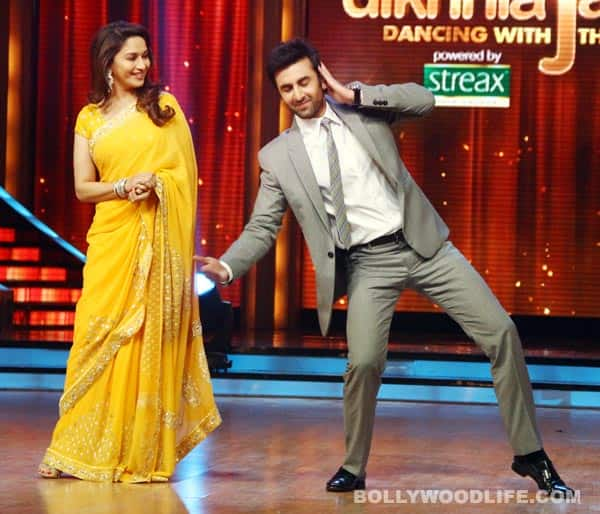 We had a thought: Instead of looking at Priyanka Chopra or Sonakshi Sinha or even Kareena Kapoor Khan to do a 'special' song in a movie, why not use Ranbir Barfi! Kapoor as an item boy? After all, he is so good at it, no?
There is no question about Ranbir Kapoor's acting skills. So early in his career the actor has consistently given super performances in just about every movie he has been in. Yet, what has not been too obvious and less spoken about – maybe because he chooses not to stress it – are his superior dancing skills.
So if you were to ask the average Bollywood fan which star is the best dancer, you would get answers that talk of Shahid Kapoor, Hrithik Roshan or even Prabhu Deva, for that matter. No one really takes Ranbir seriously as a dancer, but that could be because his acting is always so highly lauded. Yet, every time that Ranbir has done an out an out naach-gaana number – like Tai tai Phiss in Chillar Party – not only were we impressed by his moves, but the sheer joy on his expressive face as he twinkle-toed through every step! The way in which Ranbir so innocently enacted his steps for the song in the kiddie flick showed off that young RK is a far more nuanced dancer than people give him credit for. And remember his class dance act in Ajab Prem Ki Gazab Kahaani, where he sang Prem ki naiyya…?
So when we heard that the Kapoor lad would be shaking a leg alongside the dancing diva Madhuri Dixit in Ayan Mukerji's Yeh Jawaani Hai Deewani, we were totally thrilled. Think about it: Madhuri Dixit, the queen bee of female actors of her generation, the best dancer that most people have seen in films, burning up the floor with Ranbir! It reminds us of the time when the diva danced with Prabhudeva in the hit song Kay sera sera from Pukaar, where just about every movement the couple made was magical and amazingly in sync!
With Ranbir and Madhuri on the same dance floor, will we see pure magic happen this time too? We hope so, 'coz as Ranbir himself said this will be an extra special number, kyunki the Ek do teen diva was his first crush ever! Exciting stuff, no?