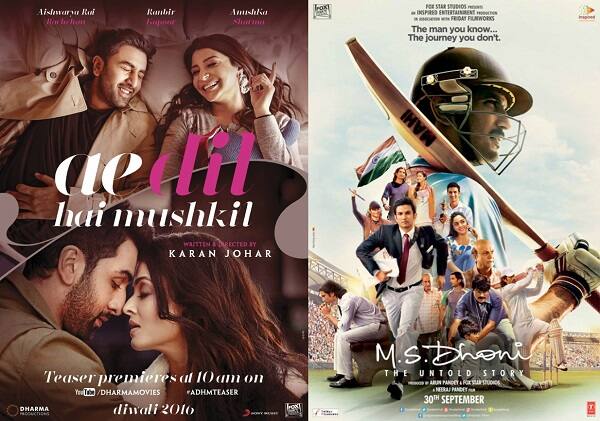 Ranbir Kapoor's next release is Ae Dil Hai Mushkil. The movie directed by Karan Johar also stars Anushka Sharma and Aishwarya Rai Bachchan. We are eagerly waiting for the trailer which is all set to debut tomorrow on digital platforms. The teaser of Ae Dil Hai Mushkil was so beautiful, imagine how fulfilling the trailer would be. Now, we also hear that the trailer of the film will also be attached to MS Dhoni- The Untold Story, which releases next week. The sports drama based on our beloved cricket captain Mahendra Singh Dhoni, stars Sushant Singh Rajput in the lead role. And there might be a special reason why Ae Dil Hai Mushkil trailer has been attached to MS Dhoni – The Untold Story.
Now, we know that MS Dhoni revolves around the untouched aspects of the cricketer's life. We are definitely going to see screen versions of many other cricketers of the Indian team who have played with Dhoni. We revealed to you yesterday that Fawad Khan will be playing Virat Kohli on screen, in a cameo in Sushant's film. Also, it is well known that Fawad has an extended cameo in Ae Dil Hai Mushkil. So it makes a lot sense to put the trailer of Ae Dil Hai Mushkil with MS Dhoni – The Untold Story.
Also Read: Before Ae Dil Hai Mushkil, Fawad Khan will be seen in THIS film – find out what!
MS Dhoni: The Untold story releases on September 30 and stars Sushant Singh Rajput, Disha Patani, Kiara Advani and Anupam Kher in the lead role. The film is directed by star director Neeraj Pandey and has MS Dhoni the cricketer himself taking part in promotions of the film. And as per makers, the film is an inspirational tale of MS Dhoni and his life journey from a TC to one of the India's best cricketers and captains. Ae Dil Hai Muskil also is rocking, with just a teaser and 2 songs that have been released. Fans who go into watch MS Dhoni The Untold Story are definitely in for a double treat.
Just recently, Sidharth Malhotra and Katrina Kaif's Baar Baar Dekho had Ae Dil Hai Mushkil teaser attached to it. It also gave a lot of hype to Baar Baar Dekho. Now you have one more reason to check out M S Dhoni – The Untold Story. Isn't it?
Ranbir Kapoor and Aishwarya Rai Bachchan's crackling chemistry in the film is undeniable

Image credit: Youtube

This mesmerizing still from Ae Dil Hai Mushkil has got us all excited for the film

Image credit: Youtube

The light-eyed beauty steals our heart with this alluring look

Image credit: Youtube

A still taken just before the kiss between Ranbir and Aishwarya

Image credit: Youtube

Bollywood finds its newest hot couple in Aishwarya and Ranbir

Image credit: Youtube

Ae Dil Hai Mushkil teaser trailer was in fact a beautiful surprise!

Image credit: Youtube

Aishwarya and Ranbir come together for the first time on silver screen

Image credit: Youtube