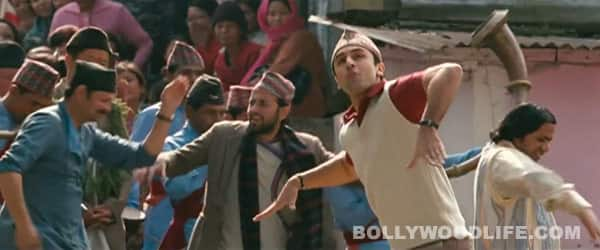 Anurag Basu's upcoming movie might not 'say' much. But a look at what happened behind the scenes left us speechless too!
Barfi! promotes itself by playing on the absence of words. But then it's not only the movie that's 'hatke'. The behind the scenes moments too showcase a silent Ranbir Kapoor who, even with his lips sealed, is a treat to watch. Don't believe us? Take a look!
Ranbir Kapoor's supper interrupted!
Here's RK relishing his meal as he eats in typical Indian style (we're impressed!). But while at it, Ranbir witnesses a fan, who, we assume, is trying to attract his attention. Is the Kapoor kid impressed? It surely doesn't look like it. 'Coz in the end we see the hero of Barfi! taking to his heels! Ooops!
Ranbir Kapoor does a 'panchee'
Maybe dance isn't Ranbir's cup of tea. And the 'panchee' dance is clearly not what RK would want to do after he watches this video. One look at this footage makes it amply clear that the intricate step involving complicated movements of shoulders and arms is alien to the actor. Even so, Ranbir gives it a try and makes it look….errr….hilarious!
Ranbir Kapoor dances his heart out
Prior to this we saw how difficult it is for the deaf and dumb actor to conform to choreographed steps. And while he tried his best in the last video, here's the recording where Ranbir actually gives up and does his own thing. And we must say, RK's style is much more entertaining. Don't you agree? Well, we couldn't help ROFLing at this one.