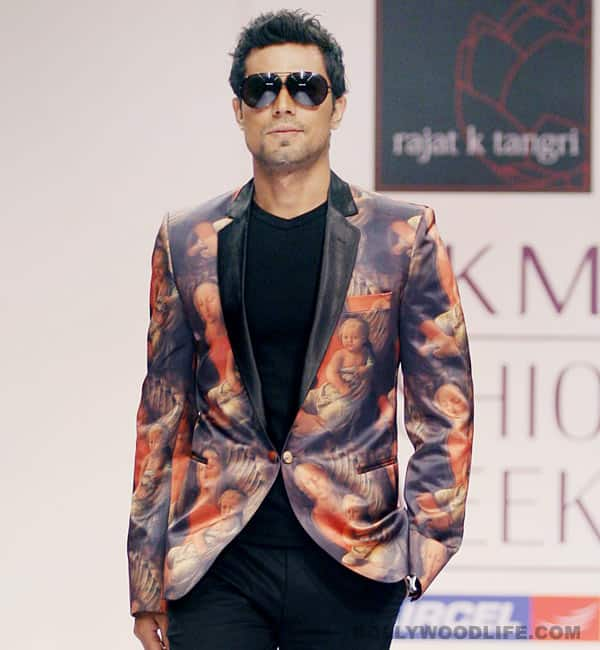 He is talented, sexy but not a conventional Bollywood hero. Maybe that's one reason why Randeep Hooda hasn't tasted commercial success in his filmi career but he doesn't regret coz he still managed to bag Imtiaz Ali's dream project Highway
Randeep Hooda is one actor who loves experimenting with his films and roles. He doesn't have many blockbusters under his belt but this B-town hunk has charmed many with his acting prowess. And now the talented actor will be seen sharing screen space with Alia Bhatt in Imtiaz Ali's Highway. So when we recently caught with up with Randeep, the actor seemed confident about his hatke paring with Alia. Though we had to wait a little longer before we started chatting with lead hero of Highway, it was all worth it coz Mr Hooda was more than willing to answer each and every question we asked. While Imtiaz has mostly worked with A-listers, how did Randeep Hooda end up signing Highway? Read on to find out
Do you think this film will put you on the Highway to stardom?
I don't think you can become a star with one or two good films. If I am doing that one breakthrough film then I will have to continue doing such films. Being a star is a career thing, you have to keep churning out work which hopefully interests the audience. Also, the audience gets what the filmmakers choose. So it is better to stay interesting for filmmakers so that they keep casting you. I don't dance around so much, in fact, not at all which I should change about myself. But the other way that I can keep the filmmakers interested in me is by doing varied roles and taking up characters which other actors won't. But that was not the case here. I think there are lot of actors who will pay Imtiaz Ali to cast them in his moves, I would have too (smiles) but I don't have any money.
Then how did bag the role in Imtiaz Ali's Highway?
Mujhe unke ek assistant director ka phone aaya tha and it was very late in the night. Mujhe laga mere dost mazak kar rahe hain mere saath. Next day, I got a call from the casting director and he said that Imtiaz Ali wants you in his film that too in lead role. Maine socha 'ye kya ho gaya'. Mujhe laga ki zaroor meri lottery lag gayi. Anybody would love to work in his film. Imtiaz is not only successful but a very soulful director as well. He makes movies with lot of feelings and that's why they are richer. Of course I was excited about working in his film.
Before signing Highway did you meet Imtiaz or did you approach him about doing a film with him?
Approaching people for work has somehow never worked for me. I think in my case the work comes to me in strange ways. In this case, Imtiaz Ali had only seen my first film Monsoon Wedding and then he saw some of my plays which I was not aware of. So those are the two things which worked for me.
On what basis do you choose your film?
In this case, I wanted to work with Imtiaz and the script was also very good. But even if it was shitty, I would have done it coz I know the end product would have turned out with grace and would have had enough goodness to get through the people. But here I didn't have much choice coz it chose me and I feel very lucky about that.
So would you work with a director even if the script is bad?
It's not about a bad script. If the script is still alive and in the process of change as it goes along then I would do a film.
But how does a good director over weigh the rest of the things?
It doesn't. In this case, I was very excited about working with Imtiaz in the first place. Then I was elated about the fact that he even called me for this movie coz he works with a different set of actors and I do not believe that I have reached that point. I am quite unaware and even if I am aware, I still want to be unaware. I think it makes life simpler. So I was ecstatic in this case and I read the script and it was good any way. He has offered me one of the best parts I have ever done. And it's also a part where I got to play somebody from where I am from.
Tell us more about your role in Highway.
There is certain mystery to the character I play which unfolds with the screenplay and I can't say anything further coz it's pointless to let that out. But what I can tell you is that my character's name is Mahabir Bhati and he is a guy from NCR. He is a Gujjar and he is from the lower strata of the society. And that has always appealed to me a lot. It gave me an opportunity to look at the world from that end. Coz apart from my father being a doctor, my chachas and all have been drivers and farmer so it was although more interesting for me to play this character.
You and Alia Bhatt make an unusual pairing. So how do you think the chemistry has developed?
I don't think it's an unusual pairing. Coz I have never been excited about watching a pair of actors. I think the casting is individually as required for each role. And in this movie the two lead characters were required to be diametrically opposite to each other and in real life we are not so opposite. In fact, Alia is quite older in her head and I am quite younger.
Imtiaz wanted an older heroine instead of Alia in Highway. So how different would that have been?
I think it would have taken a lot of charm away from the film coz Alia is really charming and right for the role too.
How difficult was it physically to play this role since the movie is about road journey?
We were looked after pretty well. We all had our own Innovas and staff with us all the time. It was not so difficult though the cold and climate was a lil challenging to deal with. But it was more fun coz we got to see this beautiful country and we also took the road less travelled since the two characters in the movie are on the run. And we got to see parts of Haryana, Punjab, Rajasthan and Himachal. I also realised how diverse our country is. Every 20 t0 30 km – the language, the water and food was very different.