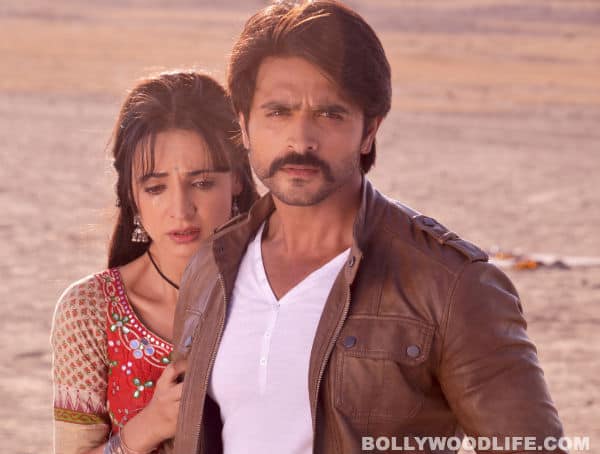 Bigg Boss 7 is finally over and a new show will take its place today
After her stint on Sony TV's not so popular shows Chhanchhan, Sanaya Irani will now be seen in Rangrasiya opposite the rugged and dishy Ashish Sharma on Colors.
The daily soap which will be aired at 9:30 every night from Monday to Friday is an explosive and intense hate story between Paro (Sanaya) and Rudra (Ashish). This love saga will showcase intense hatred fuelled by circumstances that bring a simple village girl, Paro and army officer, Rudra together.
Both the protagonists have a different understanding of love and relationships. For Rudra, love is need-based, beauty is deceit, and work is duty as for Paro, love is hope, beauty is extreme and duty is vengeance. The story starts with Paro's wedding Birpur, a small village in Jodhpur. Army officer Rudra and his platoon gatecrash the wedding in search of illegally smuggled arms and ammunition. During the course of events, Paro's husband gets murdered, which turns Paro's life upside down.
Speaking about the show, Sanaya aka Paro said, "I took up Rangrasiya as a challenge because I was eager to experiment with my character as Paro; and it wasn't really easy portraying her. Walking barefoot in the scorching desert gave me blisters on the soles of my feet, but that did not deter me in any way. The excitement to do something different enabled me to move on. I am thoroughly enjoying every moment while shooting for Rangrasiya and I hope that my fans will take delight as I reprise the role of Paro." Well of that we can be sure, no? Sanaya's popularity will probably be one of the few things that will drive this show ahead along with a good storyline.
Commenting on his role, Ashish aka Rudra said, "For portraying the character of Rudra, my keyword was 'intense'. Everything I did, even in my day-to-day life incorporated that sentiment. Rudra is a rebel in every aspect of the word. With my portrayal of Rudra, I hope to find the love of audiences through the despise they feel for my character. That will be my ultimate win!"
We believe the story and the twisted chemistry between the leads will definitely compel the audience to watch this show. We are intrigued – are you BollywoofLifers?