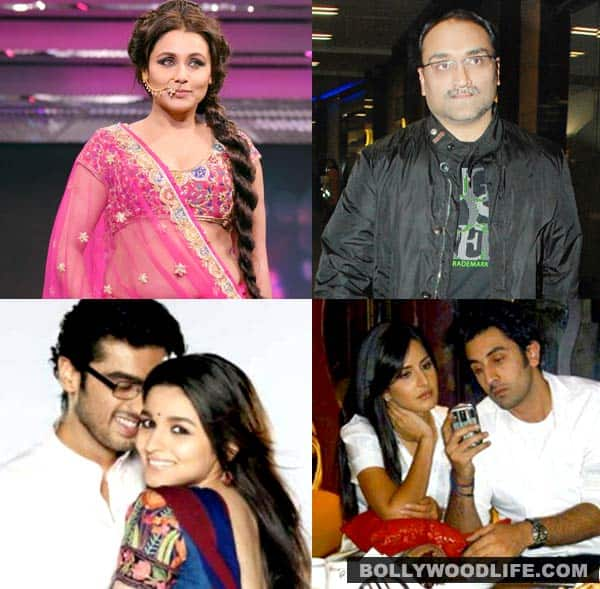 A lot has been said about Rani and Adi being in a committed relationship. Though neither of them has spoken openly about it, their frequent outings together give it all away, hai na?
Recently, Rani Mukerji celebrated Diwali with her alleged beau Aditya Chopra and his entire khandaan. Now we didn't go 'wow', coz this isn't the first time that Rani and the late Yash Chopra's elder son have been spotted together. Not long ago, the Aiyyaa actor tagged along with the Chopras to Switzerland for Pamela Chopra's birthday. In fact, Rani and Aditya's wedding has been the talk of the town for ages now, longer than we can remember. The duo was supposed to take the plunge last year, but that didn't happen because Yashji passed away. Rumours are rife that Ms Mukerji will finally marry her long-time beau early next year. But all this shaadi talk is surprising in a way, since the couple hasn't confessed being in love till now. While Rani and Aditya have continued to keep each other company wherever they go, neither has ever spilled the beans about their romance. This often has us wondering whether something really is brewing between them or not.
But that's how it is in Bollywood – everybody falls in love, but nobody wants to admit to it. Isn't that the reason why most celebrity couples prefer to play the hide-and-seek game?
Think about it – Ranbir Kapoor and Katrina Kaif arrived at the Bachchans Diwali bash together and left in the same car. And we all remember their not-so-secret Spanish holiday, right? Still, the Kapoor lad prefers to call Kat just his 'special friend'. As if we are going to buy that, eh?
Then we have the young guns – Arjun Kapoor, Alia Bhatt and Varun Dhawan. The Student of the Year babe has been linked with both the dishy young actors. But is it Arjun or VD? We still haven't got the answer, even though Alia usually insists that she is too young to be in a relationship and for now she would rather concentrate on her work.
On the other hand, Aditya Roy Kapur and his Aashiqui 2 co-star Shraddha Kapoor have got everyone curious. They dine together, party together and are pretty much in-love, we hear, but not ready to make it official or public. Are they just good friends hanging out together, or is it ishq wala love? Hard to figure.
And then there is Sonam Kapoor and her on-off pyaar-dosti with director Punit Malhotra. The two also make it to our are-we-together-are-we-not list. Of course, this one is complicated by Sonam's reported new Spain-based beau…
While we are having a tough time deciding whether these celebs are or are not, you vote, Bollywoodlifers, and tell us which of these jodis you think are truly romantically involved in real life!