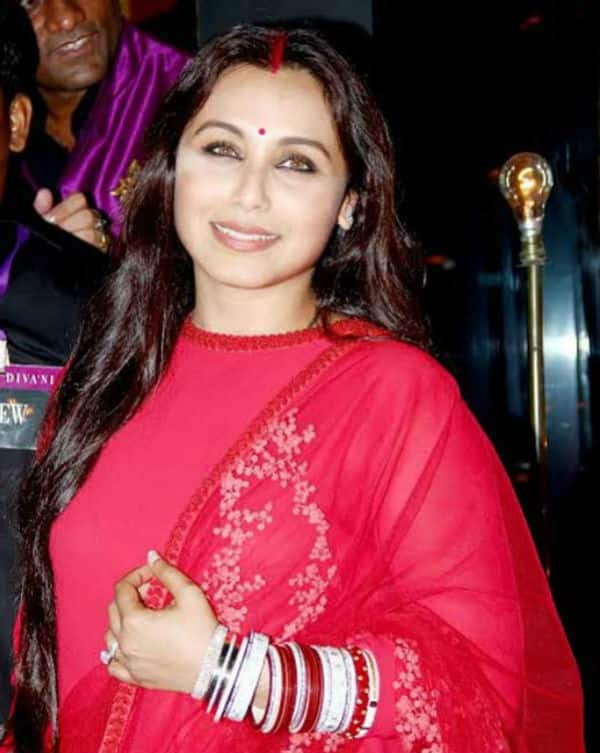 In a candid conversation about marriage, love and life as the newly wedded wife of Aditya Chopra, the Mardaani of Bollywood speaks…
"Don't marry a man who completes you. You need to be that on your own. Marry a man who complements you." Rani Mukerji found that man in Aditya Chopra. They have been together for some time now. But the marriage is new and they are in the honeymoon stage. They are discovering each other. Here, the new bride talks about the man who is the biggest mystery in Bollywood, about her new life, her upcoming film and more. Read on….
How has life changed after marriage?
I think very little changes for girls like us who are from the cities, and get married to… like I am married to a very modern man. So, in that sense, nothing has really changed. My day or the way I dress hasn't changed. I think life changes drastically for girls who come from a different strata of society. They have to follow a new rulebook at home. For me, the only change is physical. I moved from my present place to his house. But it's very normal because my mother-in-law is
independent, too.
Does she live with you?
No. Nothing new has happened apart from the fact that I have started looking after the house my mother-in-law used to look after, previously. So, I have become the boss of the house in that sense, running the show. Like aaj sabzi kya banegi to the nitty-gritty of the house.
You have played strong female characters in recent years. Is that how you are?
Yes. I have always been attracted to strong women-oriented roles. Right from my first film Raja Ki Aayegi Baaraat to say Kuch Kuch Hota Hai, Hey Ram, Yuva, Hum Tum, Saathiya, Bunty Aur Babli, Black… every role has been powerful and has a message for women in some way or the other. It was not a conscious decision to do films like that, but when I am reading a script, I relate to strong characters, which attract me more than soft ones. I think that has worked for me. Going forward, it will always be a part of me.
You play a tough cop in Mardaani.
What really excited me, was that I have never played a cop before. I have always been intrigued by women who work in the so-called man's world. During my research for the film, I spoke to all the senior crime branch officials. Joint Commissioner of Police (Crime) Himanshu Roy told me that "In this unit, we have a female officer and she is actually much better than the male cops there." To hear these things is so inspirational. Almost all male actors have played cops. It's easy to show them in a larger-than-life avatar. In this film, we have taken the real route. I have never done action, my body language had to change and I had to start thinking like a cop. See, when I did my research, when I meet people from the military or people from the police academy, the first thing that comes my mind is, how do they go about their daily life, knowing that there is a threat to their life? We are in a profession where we might die in a plane crash, car crash or a natural calamity. But they live their life dangerously. They could be shot any time… how do they cope with that? The answers that I got from them is that one can't do such a job unless they have love for the country.
Which of your characters one do you identify the most with?
Strangely, I identify with a lot of my characters. In Hum Tum, I identify with Rhea Prakash because she was a modern-thinking girl. Like the scene with Saif at the church, was the clincher. When she asks Saif, 'Do you want to marry me just because we spent the night together? We don't have to be married for that reason.' I love Michelle from Black because she says that nothing is impossible. That is the spirit. I might go through a bad time, through career lows, flops, etc, but there is nothing in this world that you cannot achieve and you always have to be with that thought. My character from No One Killed Jessica was a go-getter. I identify with that determination, grit, passion and enthusiasm to go about your career. I don't believe that it is difficult for women to handle careers once they get married or have children. Look around, from journalists to cops, all women have families and children and nothing is stopping them from achieving their goals. The time has gone where women gave up everything once they got married. The good part is that the men have got more independent in their way of thinking. They don't respect women who sit at home and belo rotis.
Okay, there is speculation that you will be part of running the studio. Comment.
My marriage has not suddenly created a need for a change in the studio's functioning. It was running extremely well and will do so even now. My being there or not will hardly make any difference. But the thing is because I am attached to Adi and I have been part of the industry. Tomorrow, if I am asked for my opinion or input, of course I will give it because it's my husband's company.
Do you see yourself taking up a role in the company?
Not unless Adi thinks so. If he feels that way, I'll be more than happy to do it, but at present, I think there are capable people doing it.
Let's talk about Adi. He's undoubtedly one of the most amazing minds when it comes to running a studio. But what is he like, as a person?
He is very normal. Let me start by saying that, because people have this notion that he is not social. He is a very regular guy, very simple at heart and he's one of the most amazing human beings I have come across. That's the reason I fell in love with him and the reason he is my husband today. I am not saying this because he is my husband. I am just being honest when I say that I have never come across any person who has only good things to say about everybody. After being in the industry for so many years, it was difficult to look up to someone because I have seen everyone's good, bad and ugly here. I have never heard him till date saying one wrong thing about anyone in the industry. And that in an industry where people's daily pastime is only bitching. Adi is occupied with work, so he has no time for things like that. He is the most positive human being I have come across. He only encourages people. He calls a spade a spade and minds his own business. If you go to him for advice he will give it to you without mincing words. He doesn't go anywhere, which is the thing I love about him. Because if he had to go everywhere I would have got bored because I hate dressing. I, too, hate going everywhere, so it suits me just fine. We have our small set of friends and we are very happy in our little world.
Which is how it should be.
Which is how it should be and I think for a healthier and longer life, I think the most important thing to keep it basic because he is a writer. He has to be close to the normal things because if you are not close to normal things, you won't be in touch with reality. And a filmmaker cannot do that.
He watches a film every Friday with the audience, right?
Yes. And he keeps telling me that is why he has fought for his anonymity for so many years… to be able to do that. He tells me, 'Look what God has done to me, he has given me an actress as a wife!' Because of me, he is in the news and his pictures are appearing everywhere and he hates that. He wants an anonymous life for his work. I feel that's great and I am very happy to let him be.
Did he ask you not to discuss him because he is such a private person?
No. I don't think he has a problem with that. He just says, 'Why should people know about me. I don't think people are really interested.' His point of view is: Why do they want to know who I am? They should just see how my movies are. He is genuinely like that. It's not like he is putting on an act.
Is he going to direct a film with you?
(Laughs) That he'll never want because he knows that he will never be able to control me on the set. But that is one thing that I will really miss and regret all my life is that I couldn't get directed by Adi as he is one of my favourite directors. So that's a missed opportunity. But he says 'Never say never in life', so probably a few years later… We will give it time.
I believe he gave you the most beautiful Bengali wedding in Italy. Did you tell him what you wanted?
No, I had always wanted a Bengali wedding and he always knew that. So he told me very sweetly, I will do whatever you tell me on that day. The traditional Bengali dhoti, etc, everything he did for me in the Bengali style, it was very sweet.
You were to get married sooner but it had to be postponed because of his dad's demise…
Yes. We were to get married two years ago actually. Both Adi and I wanted to get married at a time when he had some time on hand because he keeps so busy. He wanted everything to happen in a way ki sab aaram se, at the correct time. But I think destiny had to have it in such a way that it had to happen now.
What was your parents' reaction when you first told them about Adi.
Actually, now that you are asking me, I don't remember. I will have to ask them what their first reaction was.
Obviously, they'd met him because he has worked in Yash Raj.
No, no they had met him earlier, too. I think it happened the first time he came home to ask me out on a date. It was very sweet because I had never been on one.
You had never been on a date?
Ya, so it was very sweet of him.
Your husband was your first date?
Ya, my husband was my first date because before this, I have only been working in studios.
Where did he take you, given that he hates being in public.
You know, we managed to go everywhere. It's just that we don't have people call up and say, 'Oh we are going here and we are going there.'
Oh yes, that happens… leaking the news of parties and outings to the media.
We go out everywhere, we go out with friends but I have started having a very normal and beautiful life with Adi and because of him, I have redeveloped my passion for food. He is a foodie and has introduced me to such gastronomical extravaganzas! I am like… do these foods actually exist? He has taken me around the world and fed me incredible stuff. It has become difficult for me to maintain my weight now!
Is he a better husband, a better boyfriend or a better boss?
I won't say boss, because it has been a long time since he was my producer. But to give him his due, I think he is the best producer. The way he produces films, the way he spoils his actors and his production team, there is nobody better. He is very friendly. It's not as if people can get scared or intimidated talking to him. They can tell him anything under the sun, so that's a great thing and a great quality that a person should have. But if I had to compare between a boyfriend and husband, then it's too quick now since it's just been two months. But I would still say, 'Chalo, he is a better husband since the wedding'.
What sort of relationship do you have with Mrs Chopra and how has it changed over the years? Do you remember your first meeting with her?
Actually, I remember it very clearly. I had done Mujhse Dosti Karoge with Yash Raj Films. We had gone to Switzerland for the outdoor. At that time, aunty used to handle the food and everything, so she used to take the orders and all. She would sweetly ask me, 'Beta, what do you like to eat?'. I told her, 'Aunty, I don't eat roti, so please make rice for me'. She used to make sure that rice used to be made every day at that time. And of course because Yash uncle was so fond of me and I used to meet them socially very often, there was a lot of warmth and lot of love from her side. And of course, now that I have become the daughter-in-law, it's very different because it's amazing to sit with her and hear stories about Yash uncle, about their love story and about their times when Adi was young, his childhood and all the little, little things. It's amazing because I think all the wives will relate to what I am saying. When I look at her, I just feel more love for her because then I realise that my husband has come out of her. So, it's a very surreal thing that you start loving the mother-in-law and you thank God that she produced him, so that he could be my husband.
I know… somebody told me that you were a great support to her when Yash uncle passed away.
I think we were all there. I think she is a very strong, independent lady. I have never come across a person who is so strong, so independent. She is an incredible person. I can actually imagine why uncle was so besotted by her (because she actually had that personality). I think aunty gets it from his mother and sometimes, I tell Adi he is a replica of his mom.
Really, I thought he was more like his dad.
No, I think he has some qualities of his dad as well, but obviously how aunty is. I think Adi is a lot more like aunty.
Most of your contemporaries are either out of work or on TV, how have you managed to stay relevant?
I don't know. I think the way I have conducted my life from day one… My dad was in this profession and his words to me were, 'You are joining the industry, but you have to remember one thing. Don't let success get you over-excited and don't let failure depress you. Always maintain a balance. That's the balance I have always tried to maintain in life and I don't make a conscious decision of doing a certain thing because I am not a manipulative person. It's very simple. If somebody reaches out to me, I will reach back to that person. Like I will not go out of my way to talk to a person because I need something but if somebody calls me, my nature is to keep to myself and I think that is something I was born with. My mom is more outgoing. She always asks me, 'Why are you sitting at home, go out and meet friends, do this and do that.' My brother is very outgoing. I am the opposite. I love being at home, that's why I think I am probably going to be a good wife. I don't like going out that much. I love travelling, that's a different thing but I have started enjoying travelling with Adi. That's what I love doing most.