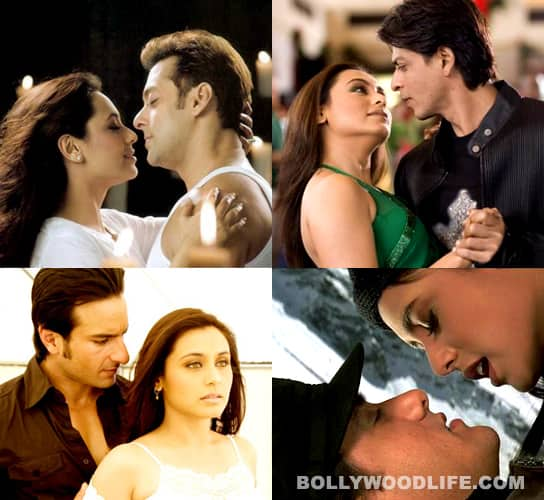 skip advertisement
On her 34th birthday, we take a look at the versatile actor's films with the four Khans of B-town
Birthday girl Rani Mukerji is one of the few actors in B-town to have worked with all four superstar Khans of the industry – Aamir Khan, Salman Khan, Shahrukh Khan and Saif Ali Khan. Rani's cousin Kajol and actor Kareena Kapoor are probably the only other Bollywood heroines to have had this 'privilege'. Undoubtedly, all four Khans have helped Rani hone her acting talent at some point in her career. But that does not take away from her versatility and calibre that shines like a diamond. Her heroes have had good chemistry with her onscreen – probably thanks to Rani's comfort level with each in real life – and that is why she has some important films of her career with them. Let's take a look at some of Rani's films with the Khans, with due respect to her movies with other stars like Amitabh Bachchan, Govinda, Shahid Kapoor, Abhishek Bachchan, Kamal Haasan and so on.
Aamir Khan: Rani debuted in Raja Ki Ayegi Baraat (1997), but her first film with a big star and her first hit was with Aamir Khan in Ghulam (1998). Rani's naïveté matched Aamir's rebel act in the film. And who can forget the number Aati kya Khandala? Being good friends with Aamir, Rani did an 'item song' – Kaali nagin si – in his film Mann (1999) and also starred with him in Mangal Pandey: The Rising (2005). But it is in Talaash (2012) that the two are expected to recreate their magic.
Salman Khan: Rani first starred with Salman in Hello Brother (1999). The 'funny but sacrificing ghost movie' was not received well, but the two paired up in two movies the following year – Har Dil Jo Pyar Karega and Kahin Pyaar Na Ho Jaaye (2000) – which made us like them together. Chori Chori Chupke Chupke came in 2001, where we liked them again, although both in this film and Har Dil…, Preity Zinta was a part of the love triangle. In 2006, we got to see Rani-Salman together in Baabul, and loved them! The films where they have starred together but not opposite each other include Kuch Kuch Hota Hai (1998) and Saawariya (2007).
Shahrukh Khan: Ooh! The young love of Kuch Kuch Hota Hai (1998), the unrequited love of Kabhi Khushi Kabhie Gham (2001), the cute husband-wife love story of Chalte Chalte (2003), and the extra-marital affairs in Paheli (2005) and Kabhi Alvida Naa Kehna (2006) – we loved Rani and Shahrukh Khan in them (although in Paheli she loves a ghost). Rani was also seen in Veer-Zaara (2004) in a supporting role, and in guest appearances in Kal Ho Naa Ho (2003), Om Shanti Om (2007) and Rab Ne Bana Di Jodi (2008). Shahrukh was seen in a special appearance in Rani and Vivek Oberoi's Saathiya (2002).
Saif Ali Khan: Rani had crackling chemistry in Hum Tum (2004) with Saif Ali Khan and the film was a hit. But the same chemistry did not work in their later films together – Tara Rum Pum (2007) and Thoda Pyar Thoda Magic (2008) – as the script let them down (we'd like to believe that). We're waiting for another Saif and Rani movie to come along!
Click for pictures of Rani and the Khans below, and do tell us which Khan you like her best with. Also, don't forget to wish Rani on her birthday today!
Photos: Yash Raj Films, publicity stills