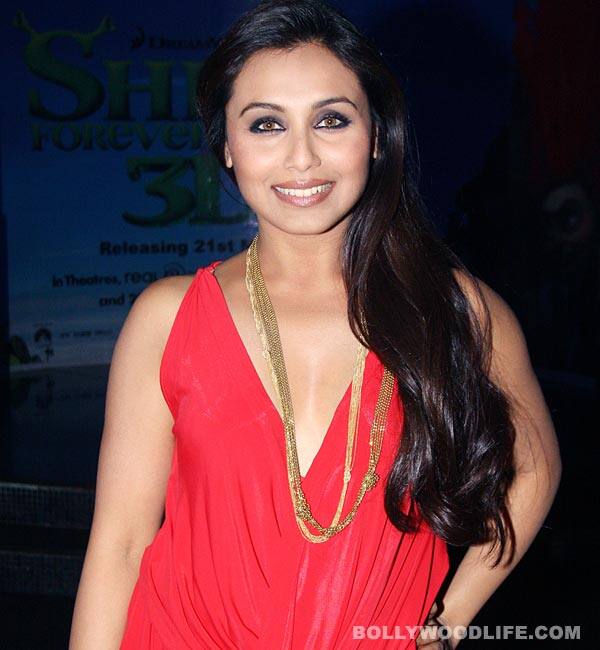 The mega-talented babe talks about her bonding with Aamir Khan, her forthcoming release Talaash and how she has grown from being the shy girl who would look at Aamir's shoes to a confident actor who now looks Mr Perfectionist square in the eye!
Rani Mukerji's infectious smile has myriad subtexts. If the petite actor laughs her throaty laugh, it means that you have asked an utterly foolish or clichéd question, for which you will get an equally wacky answer. If you hear her scornful, lopsided giggle it automatically means that the question has not really impressed her. But when you get that rare warm smile coupled with an approving nod of the head, you get full marks and Rani becomes engaged in an intensely intelligent conversation straightaway. So when we settled down with the honey-eyed babe for this interview in her tastefully done Juhu office, ahead of the release of her forthcoming thriller Talaash, we were keen to read those micro-emotions and subtle connotations behind that famous smile she flashes. We chatted over a cup of coffee…
You had reservations about venturing into 'dark cinema', as you categorically told director Anurag Kashyap; you were not keen to do a grey film just yet, so you bagged Aiyyaa. But your next release Talaash is a thriller with a grey undertones. Why this shift from comedy to serious drama vis-a-vis the way you select your projects these days?
I can't talk much about Talaash. I have been told not to divulge details about the film; though I would like to discuss the story and the characters, I am not allowed to. I want audiences to discover what my character – what the film – is all about. As far as my talk with Anurag Kashyap was concerned, it was said in all good humour, not seriously. So let's not read too much into it and tread into controversial territory.
Your last two films No One Killed Jessica and Aiyyaa had new directors. And Talaash has a relatively new director, Reema Kagti. What do you feel when you work with debutantes – do you feel challenged, or apprehensive before you sign on the dotted line?
There is a difference when you work with directors who are new and directors who are experienced. There are advantages and disadvantages with both. Experienced directors perhaps know how to interact with their actors and bring a team together. New directors or those who are relatively new may not have the experience, but what they have is unbridled enthusiasm and the attitude that they want to make something different.
So you get good out of both seasoned as well as new filmmakers. With the seasoned ones you get their valuable experience and from the young ones you get novelty, enthusiasm and lots of spirit. It is also important for an actor to work with directors they are comfortable with. An actor and a director, new or seasoned, need to be on the same page and need to have respect for each other.
You have worked with female directors before – does that automatically put you at ease?
Directors have no gender. Whether male or female, directors do their job of directing a team for their films. A director is a director… period. The only category you can slot directors into are – good or bad. And Reema (Kagti) is certainly a very good director.
Tell us about your equation with Reema (Kagti). She called you the front bencher…
Wow, that's good, in fact! An actor and a director share that kind of equation because as an actor you always seek approval from your director. Till the director says 'Okay', we actors doubt our own talent. And when the directors says 'brilliant' or 'superb', you feel like you got your marks. Audiences see the film much later, but as an actor you are concerned if you have justified the role that is given to you to make your director's vision complete. So if the director is happy with your work, you have won half the battle.
A lot of emphasis is given to film marketing, promotions and PR hullabaloo these days. For Talaash the promotion has been low key, especially when you compare it with other big banner films. Why?
Luckily for us, Aamir ( Khan) is part of the film. When it comes to Aamir's film you feel like going and watching it, irrespective of whether like the promo or not. When I worked with Aamir for the first time, he was a superstar then. He's a much bigger star now. His focus, dedication and sincerity towards his craft have become greater with time. The image that he has created for himself is the result of the focus he has maintained throughout his career. The kind of story he wants to show and characters he portrays have had a huge impact. Today, when you go to watch an Aamir Khan film, you are assured that you are going to watch a good film. Aamir ne kabhi nahi kaha ki 'Meri picture achhi hain to aa jao aur dekho!', so it really doesn't mater how a film is promoted as long as you have Aamir in it. You will always have an audience for his cinema. I understand that today marketing and promotion has become a part of our job, but I know that Aamir is a very intelligent person. He knows how to handle his films better.
Talaash is your third film with Aamir Khan. How have you seen Aamir evolve both as an actor and as a friend?
He's only grown from strength to strength. When I did Ghulam (1998) with him, I used to look at his shoes. I was obviously tense and nervous, because I was a huge Aamir Khan fan. In fact, I had a crush on Aamir Khan when he did Qayamat Se Qayamat Tak (1988). I was in school when the film was released. So when I did Ghulam with him I was like, 'Oh, my God! This is Aamir Khan and I am working with him!' I remember when I had to do a romantic scene with him – I was so nervous and shy that I would look at his shoes. I could never look into his eyes, because I feared that I would fall in love with him. But he's a great friend now. Today, I stare at him and he says, 'Don't look at me like that!' I would like to believe that we will remain friends for a lifetime. I even want to attend his 88th birthday bash!
Aamir is known for his integrity and involvement in the projects he chooses. He also goes out of his way and gives his valuable suggestions, but have you ever encountered a situation where you had to put your foot down and say, 'Your inputs are welcome, Aamir, but let me do certain things my way'?
I treat myself like a kid and a learner when I work with Aamir Khan or Shahrukh Khan, mainly because I started my career with them. I look up to them. Their being my buddies has nothing to do with my work space. I may not be shy any more when I work with Aamir, SRK or Salman, but that has nothing to do with what our equations are in our work space. So when they give their inputs. I know that the suggestions are for my benefit. In fact, they inspire me and I like to be guided by them. Having said that, I would also like to stress that there's always room for discussion.
Aiyyaa did not fare well at the box office and your next movie Talaash is already being touted as a big hit. Do you move easily across these contradictory spaces in terms of how your films are received by audiences?
I believe actors are employees of their own image that they create over a period of time. I strive to work hard and try to give a better performance in every film, for that's what I can do. Whatever happens beyond that is not in my control. Thankfully, people never said 'Yeh picture kharab hain aur Rani ka kaam bhi bakwaas hain'. You know what they say? 'Ok, yeh picture nahi chali, lekin Rani ka kaam sahi tha'. So I work hard and try to maintain that reputation. I guess that's what happened with Aiyyaa. I liked the script; audiences did not like it. But I was appreciated for my work, my dance was appreciated and I was happy with the fact that I gave my hundred percent to the film. So it is advisable to draw positive experiences from the films you do and move ahead. And I am looking forward to Talaash now!
You have been around for close to 17 years and have acted in more than 40 films. Is there a process now when it comes to choosing a film?
If I am excited, challenged and raring to go, I do a film, but for that to happen, the script needs to be exciting. I won't do Bengali films just because I am a Bengali. But if a Bengali director comes up with a fabulous script and an exciting role, I will definitely work in his or her project. If you look at my last three films – Talaash, Aiyyaa and No One Killed Jessica – you will notice that the three characters I portrayed are drastically different from one another. Their looks, their appearances, the way they dress and their inherent persona…everything is so diverse. Also, I see to it that my character is strong enough to strike a chord and make an impact. All these things get counted before I zero in on a project. So yes, variations and diversity of various characters get me excited.