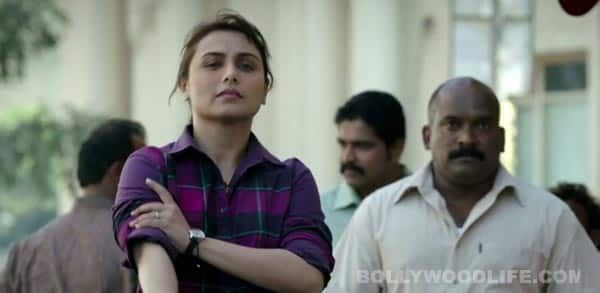 Rani speaks about her experience of tackling eve teasers and her upcoming release Mardaani
Rani Mukerji is on a mission – to convince as many people, especially girls to go watch her film Mardaani. "I genuinely believe and hope this film will empower girls to stand up against any crime committed against them!." During the course of our chat Rani also tells me why she has stayed away from social media and her reason for being extremely choosy with films. Here are excerpts from our chat….
What got you excited about Mardaani ?
When this film came to me, I reacted as a woman first. I am a woman and then I am an actor. This was the first time that I wasn't reading a script and visualising a film. I was seeing a real life story that is happening and I reacted like a girl, and I said I have to be a part of this film. I realised this was not just a film but an opportunity for me as a woman to help other women bring out the power in them. I believe that all women are descendants of Shakti and there is nothing that a woman can't do if she believes in it. There are so many states and places where women are taught to be docile, not speak up against your husband, don't raise your voice among men and this culture has been simmering in our society for years. I think the time for debates and discussions on atrocities committed towards women is over, it's time for some action!
How do you think crimes against women will go down?
I think children at the age of three need to join martial arts classes and self defence classes. Because its only when you inculcate this at a young age will that girl child at the age of 19 be a confident killing machine. No man will ever have the courage or the guts to behave badly with a girl like that. Today a man gets the courage to misbehave with a girl because he feels superior; he thinks the girl is so weak that she won't be able to fight his advances. It's not so much a physical thing as much as mental. When you see these rapists whose faces are covered with a black cloth, you realise they are lanky and so scrawny that how could a girl not fight them off? So it's the superiority complex that they have which makes them feel they can get away with anything.
Have you ever faced any eve teasing or been threatened by a man during growing up ?
Yes and I have slapped many people! I have been a Mardaani since I was a child. This film is like coming a full circle. I think if i give just one look a man will know better not mess with her! I have always been that kind of a person and I feel women should have that attitude about themselves.
How different is Mardaani from the other cop films we have seen?
Mardaani is breaking a stereotype. Because when you talk of cops the only figure that comes to your mind is that of a man in uniform. It is difficult for someone to think of a woman as a cop because that's how we are conditioned to think. During my research I spoke to various Joint Commissioners and they told me about these women police officers who have been extremely brave and courageous. And they all feel that the cop films we see are not a true depiction of their work. Mardaani is a very real story that is inspired by crime branch officers. In the police force there is no gender bias, you are what you are based on your designation. I hope that after watching this film, girls come out of the theatre and whack anyone who tries to mess with them!
Do you plan to take forward this message of self defence even after the film's release?
My dream is that every school makes self defence compulsory and I would like to take this forward and try and convince as many schools to do this. Today every father is so tensed about sending their daughters out anywhere. I remember in my time, I had to walk this one stretch close to my house to take the bus and I would do this alone every afternoon. But today things have changed. Parents have ID cards because schools can't trust handing over the kids to anyone else. The whole scenario has changed.
Your fans want to know why don't they see you on the big screen that often..
If I want to be seen then I can do films everyday. But I need to do something that has some meaning and relevance. I don't want to sign a film and be a part of it just for the sake of it. I don't believe in that anymore. I did a Bombay Talkies because I felt for that subject, and even though it was a small role and it was a short film, I knew that Karan Johar wanted to tell that story. That got me excited and I could his passion towards that subject. Also if there's a comedy that really doesn't give any message but just tickles the audience, I would love to do it.