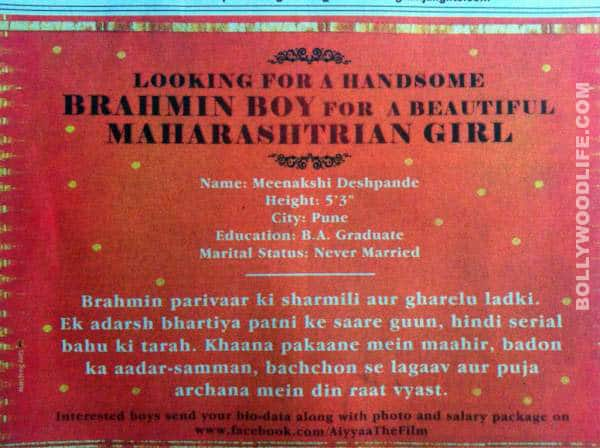 The makers of Aiyya have come up with a unique promotional strategy. They have started publishing interesting matrimonial ads in newspapers in order to create much-needed noise about the Rani Mukerji-Prithviraj-starrer
Unless you reach the end of the ad, you won't be able to figure out that this is an advertisement to promote Rani's new film. The ad – just like any typical matrimony endorsement – raves about a homely and decorous Maharashtrian girl whose folks are looking for a decent Brahmin boy for her. The ad boasts about how the girl loves kids and her culinary skills are par excellence. She's just like the typical Indian woman we see in TV serials and has all the prerequisites to be an ideal bahu.
The interested man has been asked to send a picture along with details of his salary package. And the money better be good, or else it won't take too long for the traditional chick to transform into a rude brat, we assume. Well, we wait to discover if this is what Ms Mukerji is all about in the movie, and we won't be surprised to find out that she's an absolute antithesis to all the qualities that have been described in the ad. And we say so 'coz Rani loves to push boundaries, and we just can't imagine this husky voiced babe playing something so conventional. What do you think?