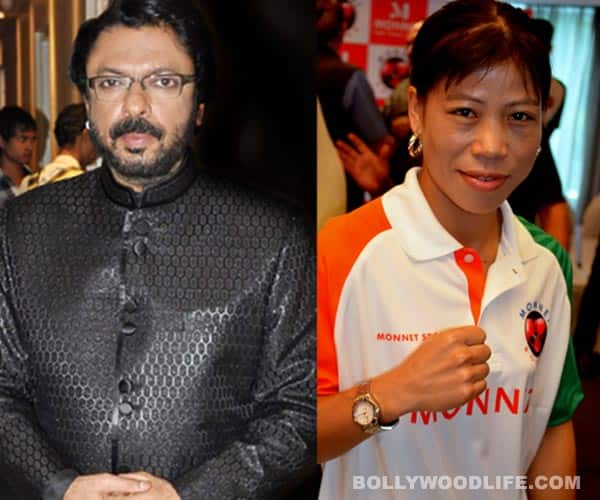 The maker of Guzaarish is on a lookout for his leading lady (again!). But this time it's for his biopic on the spirited boxer who won a bronze medal at the recent London Olympics
After Sanjay Leela Bhansali zeroed in on his Leela, a role to be essayed by Deepika Padukone in Ram Leela, a brand new search began for the lady who could play the role of Mary Kom in his next. Now, SLB, aren't you settling into a pattern?
Anyway, coming to his current difficulty, director Omang Kumar says, "At this point, we don't know whether we are going with an established actress or a new face who will match Mary's physicality. It's not an easy choice to make. But since the girl will anyway have to train for four months (to learn boxing, pick up the correct postures and Mary's special stance), we will have to come up with the final name within the next ten days." Hmmm, it surely looks like a daunting task.
What's more, keeping a close watch on the script and the way in which the film might develop will be the boxing champ herself. "I shall read the final script. And I shall definitely suggest changes if I feel they are needed. I might drop by at the shoot if I am free," Mary Kom says.
But while we all are aware of Kom's sporty personality, few know that the lady is quite hip and happening in real life. And Omang, who met her in Manipur a year ago, couldn't really recognise her in a short black skirt and cap. Whoa! Now doesn't that look like Preity Zinta's style from Salaam Namaste? It does, no! So will Bhansali consider the dimpled babe for this movie? Perhaps.
But then the Zinta babe might not pass the petite-frame test that's required for the character of Mary Kom. So who else could be on the maker's list now? Rani Mukerji, Parineeti Chopra, Minissha Lamba and Anuskha Sharma might look like strong contenders here.
So tell us, readers, who according to you could make a perfect Mary Kom for Sanjay Leela Bhansali?