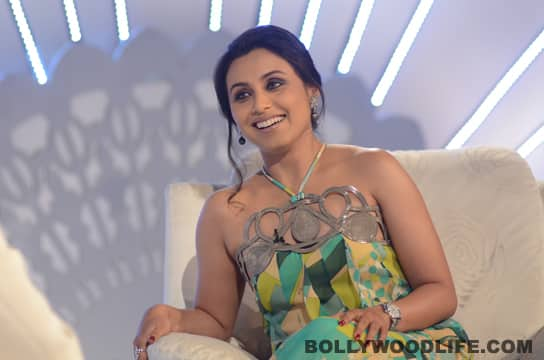 The No One Killed Jessica actor confesses to the chat show host that she is indeed taken
The desirable, talented but still single Rani Mukerji broke a lot of hearts when rumours of her being involved with Aditya Chopra first began to do the rounds. Fans got some relief when she did not confirm those rumours. But now, more hearts are bound to break as Rani confirms on Simi Selects India's Most Desirable that she is in love. "I am absolutely in love," she admits, but denies that the person is Aditya Chopra. In fact, the buzz is that the two had a great fight over Simi repeatedly quizzing Rani about her relationship with the Chopra scion. However, she had no problems admitted that she adores Hrithik Roshan. "Hritik Roshan is gorgeous," she says.
Anyway, Rani also stated that age is not a problem in Bollywood. "Kareena (Kapoor), Kajol, Ash (Aishwarya Rai Bachchan), Bipasha (Basu), Lara (Dutta), Vidya (Balan) are beyond 30 and are desirable," she says. She also got a bit catty, revealing that she does indeed use swear words – especially the F and G words, and she didn't like it when Govinda kept her waiting on the sets during their films together. Now, what is Rani trying to stir up here?
Simi Selects India's Most Desirable airs Sundays at 9pm on Star World
Also read: Rani Mukerji lashes out at Simi Garewal