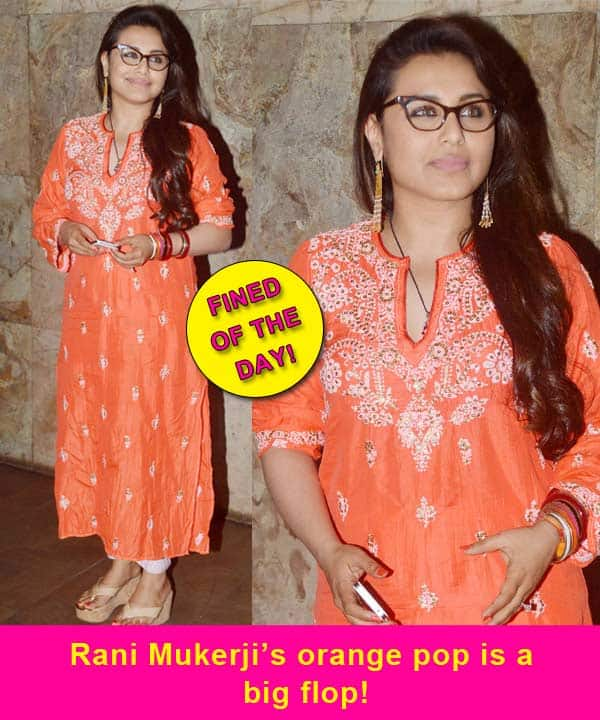 The Mardaani actor's attempt at mixing the desi and geek look was an outright fail. Read on to know more…
We all are well aware of Rani Mukerji's acting talents. The Bong beauty made a deadly comeback with her recently released film Mardaani. Where the nation is busy singing praises for her memorable performance in the film, it still eagerly awaits the moment where Rani would show up in a stunning outfit and floor one and all.
Guess the waiting game would be a long one as the actor appears to be far from pulling off that stunt soon. Rani was recently spotted at the screening of Mardaani wearing a bright orange kurta with a pair of beige platform heels. The rotten cherry on the fashion faux pas cake was the star's geeky specs which she chose to complete her unflattering desi look with.
We get that Rani tried to play cool by fusing both the styles, but instead of ethnic and chic, she came across as a wannabe geek! The bright red bangles and the golden danglers added to the actor's bizarre fashion fest. The Yash Raj mistress looked like a celeb who happened to show up in a colourful night gown with a few accessories to go along with her "kurta" per say.
Now we know Aditya Chopra's wifey is a homely damsel, but we believe the actor took her image a tad bit too seriously with that look. We can't help but state how similar Rani's style is to Vidya Balan's, who has been a victim of the much invited fashion bashing every now and then. Looks like these two No One Killed Jessica co-stars need separate hangouts with style icon Sonam Kapoor. Well we hope Rani takes our advice seriously if not her own fashion sense!